Lawyer Up
Neville Johnson stares down entertainment's power players
Friday, September 6, 2019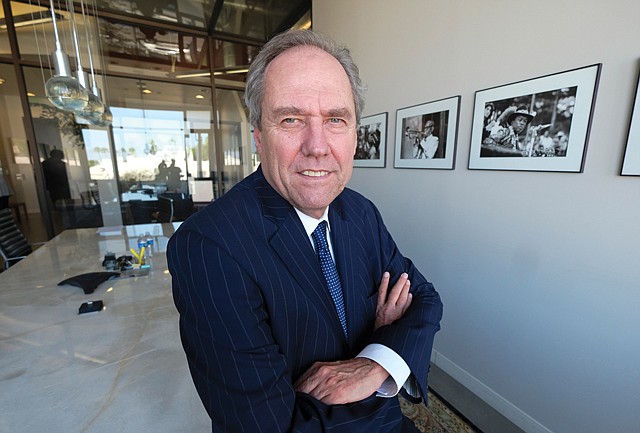 Tell us about the five studios you sued over actors' home video royalties.
Well, four of those cases have settled. We were representing pre-1981 talent for the most part. The studios were saying to actors like Charles Bronson they could only get royalties against 20% of the proceeds instead of 100%. What was particularly beneficial about those cases is that we were able to get 100% on streaming also going forward.
Global revenue from recorded music dropped from 2000 to 2014 but has rebounded due to streaming.
The music industry was not just in the doldrums; it was in a depression for more than a decade, ever since Napster began, and piracy. It's a streaming world. And that's positive for the consumer, but the question is, has it been translating into revenue for composers and talent, and the answer up until recently was, "No."
Are things better now for music artists?
The issue for talent is that contemporary record company deals pay 15% to 20% of the revenue from streaming, just as they would pay 15% to 20% on physical product. While 15% might have made sense when there were people to pay in the manufacturing and distribution pipeline, there's now just one press of a button to get music. So, there's an argument that artists today should be getting paid at a higher rate.
It seems like artists make more money from live performances.
When tours happen, 85% of the revenue goes to talent. But what has also happened is a trend in the last 10 years of record companies saying, "We are going to cut into touring money as well, and we also want a cut in merchandising."
What other entertainment industry trends are you observing?
There is a diminishment of backend payments to artists because of Netflix deals. They give you a production fee that they have calculated, and that's all, which is fine if you have a project that doesn't do well. But if you have something that's very successful, you can't be compensated on the backend because they won't give you the numbers of how well you did.
Could the Netflix payment model be positive for the talent side because you're getting more guaranteed money?
Yes, but if you have a hit — if you have "Jaws" or "Raiders of the Lost Ark" — then you're out of luck. If you have a small film, but it wins the Academy Award, and its plays forever, like "Citizen Kane," then you are stuck.
What has changed about your business?
The rise of defense counsel being able to bring cases to private arbitration instead of a court of law. Arbitration is the bane of plaintiff's counsel. They do not like arbitration because of the cost, the secrecy. And there's the perception that arbitrators lean toward major players such as the studios in the fear that if they rule against them, they will not get their business again.
Do you feel at a disadvantage against big law firms like Latham & Watkins or Gibson Dunn & Crutcher?
We think we are as good as they are. And we have vanquished the big firms many times. There is a greater degree of cordiality between my firm and them because they know we have the ability to take a case all the way to its conclusion.
For reprint and licensing requests for this article, CLICK HERE.
Prev Next