Long Beach On The Rise: Specialized Care…Just for Kids
Custom Content by the Los Angeles Business Journal
Wednesday, September 4, 2019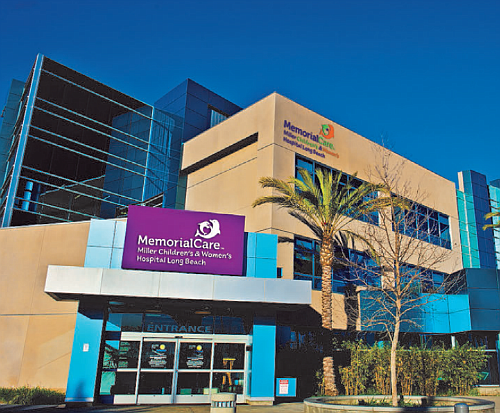 About one in 20 hospitals in the U.S. is a children's hospital, making them as unique as their mission: treating infants, children and teens.
Because children's hospitals are so unique, they serve larger geographic regions than adult hospitals. As one of only eight free-standing children's hospitals in California, MemorialCare Miller Children's & Women's Hospital Long Beach treats more than 8,000 children inpatient each year and provides services for more than 65,000 children who require specialized care in the outpatient setting.
Children need health care designed for their unique needs that is delivered by specially trained clinicians in environments created just for kids.
At Miller Children's & Women's, we have more than 870 pediatric physicians, with training in 40 pediatric specialties, including cardiology, gastroenterology, oncology, orthopedics, pulmonology and more.
Not only do children require specialized care teams, they also require individualized medication dosing and equipment sized for kids; tailored communications; and compassionate caregivers who understand kids' physical, mental and behavioral development.
With the philosophy that children need more than medicine to get well, Miller Children's & Women's has a team of child life specialists dedicated to making the hospital experience positive for children. With backgrounds in child development, our child life specialists prepare children for hospitalization, surgery or other medical procedures by familiarizing them with the things they may experience to lessen anxiety and fear.
Knowing that a child's work is play, they also encourage play throughout the hospital. Art workshops, music therapy and even a hospital school program ensure our patients stay on track with their development throughout their journey.
Specialized Care Starts before Birth
We care for children from conception to adulthood, and we believe its critical to keep moms and babies together immediately after birth.

That's why Miller Children's & Women's is one of a very few hospitals in California to feature a level IV maternal care center and a level III Neonatal Intensive Care Unit (NICU) under one roof, where mother and baby can receive specialized care from our 24/7 in-house maternal-fetal medicine specialists, neonatologists and other sub-specialists.
Miller Children's & Women's is home to the region's largest Small Baby Program, which is designed to care for the tiniest premature infants, often weighing less than 2 lbs., in a serene, environment that mimics the womb.
Most hospitals do not offer the level of care needed to treat premature babies this small. At other hospitals without these capabilities, the baby may need to be transported to another facility, away from mom, who is still recovering from delivery.
Our Cherese Mari Laulhere BirthCare Center cares for more than 5,000 women each year who are expecting – whether their pregnancy is routine or high-risk. If a delivery isn't routine, the baby is moved just down the hall to our NICU.
For moms that don't deliver with us, we have a Transport Program available to transport premature or ill babies to Miller Children's & Women's for the highly specialized care they need.
Advancing Children's Health Care
Children's hospitals do more than just provide health care to kids, we also work to advance children's health care through partnerships and research projects on the international, national and local level.
Miller Children's & Women's partners with UCLA Mattel Children's Hospital to bring together our academic, clinical and research expertise, and resources to enhance services in Southern California.
Internationally, Miller Children's & Women's is one of the primary institutions that make up the Children's Oncology Group (COG), an international cooperative childhood cancer research network that focuses on identifying cancer causes and pioneering new treatments and cures at children's hospitals. Participation in COG allows us to offer the latest and most effective treatments to young patients.
Additionally, Miller Children's & Women's is one of only 82 accredited cystic fibrosis care centers that make up The Cystic Fibrosis Therapeutics Development Network, which is the largest cystic fibrosis clinical trials network in the world.
Improving Health in Our Community
Working in and with the communities we serve, Miller Children's & Women's also leads health improvement initiatives for children that yield long-term benefits, including a healthier adult population, and countless costs avoided by early intervention in, or even prevention of, chronic health problems, like asthma and obesity.
One in 10 U.S. children has asthma, so to address this common illness, Miller Children's & Women's works with families in the hospital and in their homes to educate them and reduce asthma attacks. In fact, Miller Children's & Women's is the only free-standing children's hospital in California, and only the 10th children's hospital in the nation, to receive the Disease Specific Certification in Pediatric Asthma from The Joint Commission denoting the highest honor for excellence in patient care for children with asthma.
To address the rising rates of obesity, Miller Children's & Women's offers a Healthy Kids Program in its Torrance Outpatient Specialty Center that uses a multi-disciplinary approach to healthy weight management and preventative care for children and teens at risk of developing serious health problems, such as high cholesterol and high blood pressure.
To prevent injury before hospitalization in our community, we also have an Injury Prevention Program that provides hands-on education focused on bicycle and helmet safety, car seat safety, CPR and more.
Building the Future of Health Care for Generations to Come
Recently, Miller Children's & Women's broke ground on the 80,000 sq. ft., four story Cherese Mari Laulhere Children's Village. When complete in 2021, the Children's Village will improve access for our patients and their families to pediatric physicians in more than 36 specialties, as well as a range of services, including laboratory, pharmacy, imaging and rehabilitation gyms; all in one location.
The Cherese Mari Laulhere Children's Village has been specifically designed and built to improve the outpatient care and experience for our patients and families. Patients will be seen at the Children's Village for a variety of reasons — from a one-time consultation to follow-up care. The Children's Village will allow us to care for the growing number of children whom require the specialized care of a Children's Hospital. The Village will also support new programs and services which address the evolving unique health care needs of the children and families in the communities we serve.
Graham Tse, M.D. is chief medical officer of MemorialCare Miller Children's & Women's Hospital Long Beach. Visit millerchildrens.org or call 800-MEMORIAL to learn more.
For reprint and licensing requests for this article, CLICK HERE.