Long Beach On The Rise: A New Experience Awaits at Long Beach's Iconic One World Trade Center 24-Hour
Custom Content by the Los Angeles Business Journal
Wednesday, September 4, 2019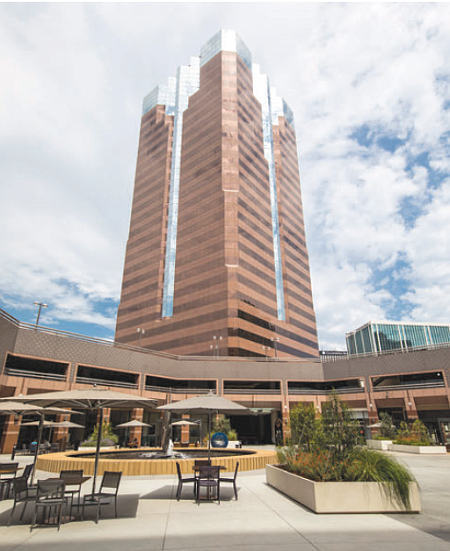 24-Hour Fitness Super Sport Leads a $25-Million Renovation of the Best Tower in the City
Exciting changes are underway at One World Trade Center in downtown Long Beach. Recognized as one of the most iconic buildings in the city with outstanding ocean views, One World Trade Center was acquired by Waterford Property Company, Greenlaw Partners and Walton Street Capital in 2015. The group invested in the 27-story, 575,000-squarefoot office tower because of an opportunity to reposition the project, built in 1987, into the highest quality office project and tenant experience in downtown Long Beach.
A Downtown Renaissance
The $25-million repositioning takes advantage of the wide-ranging new development and investment occurring around the property. The core of the city has been experiencing a major flurry of development including a significant overhaul of Long Beach's Civic Center, located less than a block away from the One World Trade Center property. The $520-million Long Beach Civic Center Project will replace the old city hall and provide efficient new offices for the Port of Long Beach, a new city library and a retail marketplace and public park that will serve residents and visitors of Long Beach for years to come. Along with the Civic Center Project, numerous new residential and hotels are also planned and under development nearby. This activity complements the impressive addition a few years ago of the $490-million Governor George Deukmejian Courthouse, just a few blocks away, that encompasses 545,000 square feet of space.
This renaissance is attracting new residents and businesses to the city. JLL Managing Director Jason Fine shared that more young people want to live and work downtown. That's why the brokerage firm is seeing an increasing number of diverse creative and technology-related companies expanding into Long Beach. These companies have certain expectations of how they want their workplace to look and feel and where their employees can go to eat, run errands, exercise or work outside.
One World Trade Center Responds to What Tenants Want Today
In response to this changing workplace focus, our team took the opportunity to build upon the abundant advantages of One World Trade Center and integrate even more of the amenities, looks and services that tenants desire.
The most significant being the newly opened 24-Hour Fitness. At 35,000 square feet of space, the gym occupies two floors of the property including a dramatic second-story pool, full locker rooms, separate exercise rooms and state-of-the-art work out equipment throughout. Visitors to 24-Hour Fitness also experience a renovated outdoor courtyard that features new seating, landscape, shade structures and artwork, all designed to provide a fresh space that encourages outdoor work and recreation. Specialty's Café is now open for breakfast and lunch, and also provides catering services to the area. A private tenant lounge with comfortable seating, TVs, ping pong table, sand shuffleboard table, full service kitchen, and large assembly room with audio visual equipment for presentations is also planned and will open later this year which will further enhance the outdoor courtyard with high-speed Wi-Fi capabilities throughout.
The tower's newly modernized lobby further adds to the tenant experience, along with three new common-area conference rooms with AV hook-up that are all available for tenant use. The tower currently has a USPS post office on site as well as a full-service Childtime daycare center to offer further amenities to tenants. The neighboring Hilton Hotel has also undergone a renovation. Their $12 million investment encompassed 400 guest suites, conference center, connectivity lounge and 26,000 square feet of meeting space.
Rick Shlemmer, principal of SAA Interiors and Architecture led the One World Trade Center design inspiration noting that the benefit of the re-imagined courtyard is that the property will now have an urban garden space that can accommodate tenants who want to work outside as well as provide a walkable destination for local downtown residents.
All of these changes have been a contributing factor of signing over 150,000 rentable square feet of new leases and renewals in the last 12 months including, California Resource Corporation, Oakwood Worldwide, Ford Walker Haggerty & Behar, Banc of California, Agilon Health, and Garcia Law.

Fine added that the real benefit of One World Trade Center is to be in a high rise tower on the ocean that gives you views of Palos Verdes, Catalina Island and Newport Beach, to Downtown LA, Hollywood and West Los Angeles. Plus its freeway close location provides tenants immediate access to all Southern California business centers.
Another unique aspect of One World Trade Center is the diversity of workspaces for lease. There are a number of creative office suites available that feature exposed ceilings, polished concrete floors, private outdoor space and high end finishes. These spaces are located near the urban garden and fitness center. The suites complement the more traditional class A space available in the tower.
Looking ahead, we strongly believe that the downtown Long Beach market will continue to thrive with One World Trade Center re-establishing its place as the pre-eminent downtown Long Beach office address. We appreciate Long Beach Mayor Garcia's vision for the city and his proactive role in supporting the city's confirmed status as the premier choice in Southern California for people to live, work and play.
John Drachman is with Waterford Property Company. For more information, visit waterfordco.com.
For reprint and licensing requests for this article, CLICK HERE.