Long Beach On The Rise: Long Beach City College's School Year Starts Strong
Custom Content by the Los Angeles Business Journal
Wednesday, September 4, 2019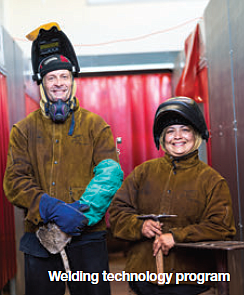 There's no better time to become a Viking at Long Beach City College! A lot is happening at LBCC, including two tuition-free years for qualifying Long Beach Unified School District students, and the return of the trades.
Why LBCC?
Attending Community College isn't a "second choice" – it's the smart choice!
LBCC students find smaller classes, expert faculty, and enjoy two campuses with state-of-the-art facilities. LBCC is close to the 405, 710 and 605 freeways - making it easier on your commute. Let Long Beach City College be your partner to success all while enjoying the beautiful Southern California weather and just minutes from the beach.
One or Two Years Free!
As part of the Long Beach College Promise, qualified Long Beach Unified School District students are eligible for two tuition-free years if they enroll immediately after they graduate from high school.
Not a LBUSD student? Qualified California residents can still receive one tuition-free year at LBCC.
Earn an Associate Degree AND Transfer to a University
An Associate Degree for Transfer (AD-T) is a special degree offered at LBCC that gives students the opportunity to save time and money by:
Earning an associate degree AND

Guaranteeing a saved spot within the California State University system. This degree also makes it easier for LBCC students to transfer to the University of California system, Historically Black Colleges or Universities (HBCU) or other California colleges who are participating in the ADT program.
Ready to Start Your New Career or Advance in Your Current One?
LBCC is dedicated to providing you with the knowledge and skills you will need to be successful in your chosen profession.
LBCC's Career Technical Education (CTE) department provides students of all ages with the academic and technical skills, knowledge and training necessary to succeed in future careers and to become lifelong learners. CTE is filled with a variety of programs that make students career-ready once they complete their time at Long Beach City College. Some programs require as little as three classes. Some programs take two years. Many industries are looking for these highly-skilled graduates where labor demand is high.
There are also a number of certificate programs that provide the foundation for you to begin a new career, transition to a new job, or advance in your current career.
The Trades are Back!
Long Beach City College is proud to announce seven new and revised Career Technical Education programs for the 2019 Fall Semester. The programs are: Advanced Manufacturing Technology, Advanced Transportation Technology, Automotive Technology, Construction Technology, Electrical Technology, Engineering Technology, and Welding Technology.
Hundreds of Online Courses
It doesn't matter where you live or the hours you work – you can become a Viking! LBCC has many online courses that will help you reach your educational goals or advance in your current job.
How to Apply
It's easy to become a Viking!
Visit LBCC.edu
Click on "Apply Now"
Need Some Help?
The Welcome Center at Long Beach City College is a great place to start on your journey to becoming a LBCC Viking! Staffed by our team of counselors, peer mentors, and administrative staff, the Welcome Center aims to make your introduction to the college experience go as smoothly as possible.
The Welcome Center provides services such as:
Answering general questions
Enrollment assistance
Help with educational planning
Even scheduling a campus tour for you!
LBCC Welcome Centers:
Liberal Arts Campus, Building A
(562) 938-4049
Pacific Coast Campus, Building AA
(562) 938-3649
For more information and business hours, visit LBCC.edu/Welcome-Center.
2019 Fall Semester Important Dates
September 23, 2019
12-week classes begin
October 21, 2019
8-week classes begin
Long Beach City College Locations
Liberal Arts Campus (LAC), 4901 East Carson Street, Long Beach, CA 90808
Pacific Coast Campus (PCC), 1305 East Pacific Coast Highway, Long Beach, CA 90806
Learn more at LBCC.edu
For reprint and licensing requests for this article, CLICK HERE.