Long Beach On The Rise: The Future of Health Care is at MemorialCare Long Beach Medical Center
Custom Content by the Los Angeles Business Journal
Wednesday, September 4, 2019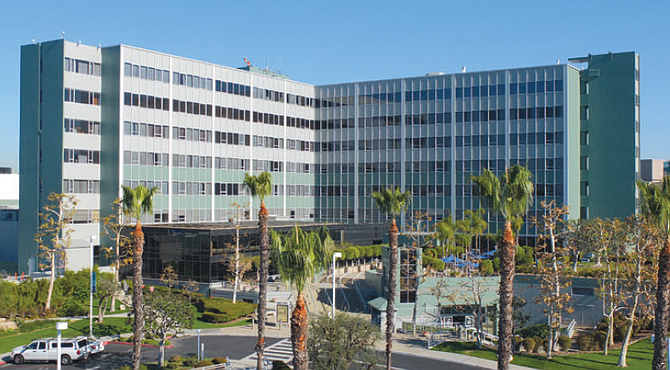 As a nonprofit, MemorialCare Long Beach Medical Center is continuously re-investing in ourselves to meet the growing health care needs of our community on a regional scale. We want what's best for you, so we acquire the latest technology and partner with the best doctors to offer the latest treatment options.
Recently, U.S. News & World Report recognized Long Beach Medical Center as "high performing" in 14 clinical categories, as well as ranked us among the Top 6 Hospitals in Los Angeles County, Top 15 in California and the highest ranking in the Greater Long Beach region.
Award Winning Care Teams Provide Lifesaving Care
Because heart disease is the leading cause of death for both men and women, we strive to keep our MemorialCare Heart & Vascular Institute at the forefront of cardiovascular diagnostics, treatment, innovative research and what matters most – successful outcomes.
Using the latest technology, our surgeons perform a procedure called Transcatheter Aortic Valve Replacement (TAVR), that prevents the need for open heart surgery. When TAVR is performed, a catheter is threaded through a small opening in the groin and a replacement valve is wedged in the aortic valve's place. This procedure results in a shorter hospital stay and improved quality of life.
Similar to heart disease, strokes can have serious and long-term effects. While several area hospitals are equipped to treat strokes, Long Beach Medical Center is a designated Joint Commission Certified Comprehensive Stroke Center offering the highest level of care to quickly assess and treat patients suffering from a stroke.
Year after year, our heart and stroke programs continue to be recognized for their commitment to ensuring patients receive treatment according to nationally recognized, research-based guidelines. In 2019, Long Beach Medical Center once again received the American Heart Association's Get With The Guidelines - Heart Failure Gold Plus Quality Achievement Award, as well as the American Heart Association/American Stroke Association's Get With The Guidelines - Stroke Gold Plus Quality Achievement Award.
Of the 100,000 patients treated in our emergency department each year — more than 1,600 of those patients receive lifesaving care from our Trauma Center.
Long Beach Medical Center is a Level II Trauma Center, verified by the American College of Surgeons Committee on Trauma. The Trauma Center uses cutting-edge equipment to resuscitate, stabilize and treat the most critically injured patients.
For patients recovering from strokes, traumatic injuries or other serious neurological conditions, our MemorialCare Rehabilitation Institute, accredited by the Commission on Accreditation of Rehabilitation Facilities supports patients during hospitalization and throughout their recovery journey.
Additionally, our Transitional Rehabilitation Service is a fully-furnished house where patients receive comprehensive care in real-world settings. We have the only hospital-sponsored program of its kind in the Los Angeles area.
Improving Quality of Life for Our Communities
We don't just provide lifesaving care in emergent situations, we ensure the best quality of life for those in the communities we serve. We continuously grow our joint replacement and spine centers to offer the latest surgical options to relieve knee, hip or back pain.

Our MemorialCare Joint Replacement Center utilizes Mako Technology, which allows our surgeons to create 3D models of each patient's unique anatomy to assist the surgeon in pre-planning of knee and hip implants – making this process more precise than ever.
For patients experiencing shoulder pain, our surgeons perform surgery using the ExactechGPS Shoulder Application System that allows surgeons to view a 3D anatomical model of the shoulder, which creates more consistent and accurate implant placement because of real-time adjustments. We are the only hospital in Los Angeles County with this technology.
Similar technology, like the O-arm and the ExcelsiusGPS system, provide advanced surgical options for patients suffering from spine injuries and disorders.
O-arm technology allows our Spine Center surgeons to perform complex surgery with unparalleled accuracy, since it gives the surgeon a 3D real-time visualization of spinal structures, increasing precision. The ExcelsiusGPS system creates a surgical plan based on the patient's unique anatomy, guiding the robotic arm to a specific region of the spine, similar to a planned pathway on GPS.
Surgery That's Best for You
Surgery isn't just performed for elective procedures. Our Surgery Center has highly trained surgeons who perform approximately 18,000 surgeries in 22 operating rooms each year for a wide range of conditions.
Our surgeons utilize the latest technology on the market, the da Vinci Xi Surgical System, which is a computer-assisted surgical system designed to enable and enhance minimally invasive surgery by allowing surgeon's hand movements to be translated into smaller, precise movements. This reduces pain and scarring, shortens hospital stays, results in fewer complications and quicker recoveries and returns to normal activities.
We Specialize in Fighting Cancer
Our MemorialCare Todd Cancer Institute has a team of dedicated oncologists and surgeons who specialize in specific cancers to ensure each patient receives an individualized treatment plan from experts in their cancer type.
Like our breast surgeons, who combine the expertise of a breast oncologist and plastic surgeon to preserve the physical appearance of the breast while removing the cancer all in one surgery, called oncoplastic breast surgery.
Our surgeons also partner with our radiation oncologists to offer intra-operative radiation therapy, which administers a complete dose of radiation during a lumpectomy (cancer removal surgery) – eliminating the need for ongoing radiation treatments.
Traditionally, lumpectomy procedures involve inserting a wire into the breast on the day of surgery leading to discomfort and anxiety, but we use Savi Scout. Rather than wire, Savi Scout uses radar to aid surgeons targeting tissue with sub-millimeter accuracy.
Looking at the long-term effects of radiation therapy, we also utilize the AlignRT system, which uses 3D imaging to ensure radiation is administered in the precise location to protect the heart and other surrounding tissues from exposure.
From heart disease to cancer, our advanced technologies and expert care are on par with the most elite hospitals in Los Angeles and Orange Counties, but we are small enough to treat you like a member of our family.
Eric Ramos, M.D. is chief medical officer of MemorialCare Long Beach Medical Center. Visit memorialcare.org/LongBeach or call 800-MEMORIAL to learn more.
For reprint and licensing requests for this article, CLICK HERE.