Long Beach On The Rise: Trendsetter - A Living Case Study
Custom Content by the Los Angeles Business Journal
Tuesday, September 3, 2019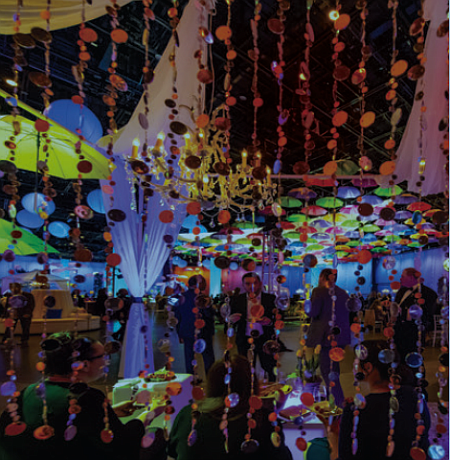 Not all convention centers are created equal and that's certainly the case when it comes to the Long Beach Convention & Entertainment Center. By paying close attention to the relationship between creativity, collaboration, and community, it has evolved to embody five trends that will define events for years to come*.
1. Emotional Intelligence
Designing with the end-user in mind
Our personal and professional lives intersect like never before — a successful meeting needs to appeal to, and activate, all dimensions of our humanity. Our needs as humans — emotional and physical — should be the top priority for experiential design, not how much content we can jam into a meetings schedule.
Inspired by TED's accommodating creative spaces and the way that participants engage with content as well as each other, LBCVB began following TED's example, adding sofas, chairs, coffee tables, and lamps in the lobby, hallways, and public areas of the campus, and observed the responses. LBCVB created terraces and outdoor seating to allow visitors to enjoy the California sunshine. The trees and other greenery enliven the indoor space and piles of throw pillows and lamps cast a warm glow into corners making the campus feel residential, not institutional. There are "meeting pods" everywhere, giving people the ability to come together in groups of all sizes — or to sit alone comfortably, answering emails, or taking a break and possibly making a connection that they wouldn't have made otherwise.
2. Orchestrated Serendipity
Engineering and embracing the unexpected for more meaningful moments
Venues should work to foster human interaction by designing spaces that encourage unplanned human collisions. The 600-foot Rainbow Bridge at the LBCEC is not your average pedestrian walkway — the bridge moves people more efficiently, but it also gives people a wonderful reason to stop and admire the design. Made up of dozens of curved steel ribs designed to mimic a breaking wave in the nearby Pacific Ocean, the landscaped bridge is lit at night by thousands of LED lights. With the addition of amenities — think a bar and seating around a fi re pit — the bridge can be transformed into a pop-up lounge. Playful juxtapositions, like a party on an illuminated bridge, help set the stage for the kind of unscripted moments that have become rare in many of our lives.
3. Multi-Modal Design
Designing for adaptation and iteration
Every event has a unique objective and audience, a space must reflect the event's personality and needs. The convergence of data tools now allow event designers to transform their knowledge into fully customized events. Offering such flexibility is the Pacific Ballroom at the Long Beach Arena. Featuring a one-of-a-kind moveable ceiling truss system allowing users to configure the space any way they want, professional theater-grade lighting and sound, combined with use of the center's arsenal of fixtures and décor, the possibilities are seemingly endless.
From an intimate black-tie-dinner, a country-western hoedown, to an EDM rave, a planner can create an atmosphere that matches an event's style and objectives in one moment — and then change and update it as the experience unfolds.
4. Bigger Than Oneself
Acting on a meaningful message
Participants aim to identify with organizations that align with their values, so event organizers should look for venues that make it easy to incorporate sustainable practices into their meetings. At Long Beach, that includes offering biodegradable and compostable serviceware, avoiding single-use plastic items, and minimizing food waste by donating leftovers to local food banks and local farms. This, along with creative assets which normally would be transported to the center and possibly discarded after a single use, has the potential to significantly reduce the carbon footprint of an event.
5. A Clear Sense of Place
Celebrate off-the-beaten-path destinations and encourage exploration of new, local environments.
Organizers strive to bring the best content possible to their events, but attendees also look for novel experiences and meaningful connections in off-the-beaten-path destinations.
The Long Beach Convention & Entertainment Center is oceanfront and right in the middle of a walkable downtown. With dozens of restaurants, shops, bars, galleries and only-in-Long-Beach destinations like the Queen Mary and Aquarium of the Pacific this city offers that one-of-a-kind experience visitors are looking for.
To find out more about planning a meeting or event contact Steve Goodling, President & CEO Long Beach Convention & Visitors Bureau at 562–436-3645 or visit MeetInLongBeach.com
* PCMA and Marriott International's year-long research project: Future Trends of Meetings & Events
For reprint and licensing requests for this article, CLICK HERE.