Long Beach On The Rise: The Queen Mary Offers Uniquely Memorable Event Experiences for Groups of all Sizes
Custom Content by the Los Angeles Business Journal
Tuesday, September 3, 2019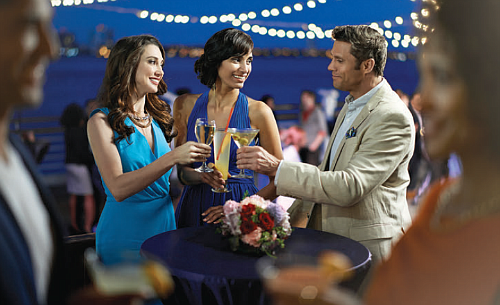 The Queen Mary, permanently berthed in Long Beach, boasts over 42,000 square feet of meeting space, including 14 Art Deco salons which makes it one of the most unique social gathering and celebration destinations in Southern California. Marrying iconic tradition, modern technology and unparalleled customer service, the Queen Mary has everything necessary to facilitate a flawless event experience.
With an array of banquet and event space in unique locations onboard and adjacent to the ship, the breathtaking ocean views and an authentic Art Deco atmosphere, the Queen Mary is the perfect place to host a celebration or social gathering of any kind. From weddings to anniversaries, reunions and more, the Queen Mary is a one-of-a-kind venue that visitors will never forget.
There's no better way to connect with your group than to experience the thrills, discover the secrets and explore the past together on our group tours. To make planning easy, we offer special packages for groups of 15 or more. A Commodore or SHIP'S Captain can welcome your group aboard. The guided tours take you places you've only read about. No one tells a story better than our tour guides with Queen Mary knowledge and insight that is second to none. Visitors can go behind the scenes, exploring the ship's fascinating history, take a World War II tour, or even investigate the ship's purported paranormal hotspots. A visit to the Queen Mary's Model Gallery will provide an up-close view of some of the finest ship models in the world, as they tell the story of the evolution of transatlantic passenger travel from 1841 to the present. 
Additionally, the Queen Mary Events Park offers expansive room for gatherings of up to 6,000 people. While our meeting space is impressive, our Art Deco salons give your group a unique experience, stepping back in time to a more elegant age while providing contemporary appointments.
Reserve a Stateroom and stay at the legendary Queen Mary and enjoy an unforgettable experience. Whether it's the authentic polished wood paneling, the original 1930s artwork, the elegant Art Deco style or the operable portholes, there's no question that the Queen Mary in Long Beach is unlike any other hotel. Stay aboard in one of the 347 original first-class staterooms including nine suites. Each stateroom is unique with its own personality offering a glimpse into transatlantic travel of a bygone era. There are one-bedroom suites as well as family staterooms, which have two sleeping areas for added privacy.
The Queen Mary offers a full array of services to make your stay more comfortable including meeting rooms, high-speed wireless access, a business center,  fitness center, spa and salon services, valet parking, laundry service and access to free city shuttles. Explore the ship from bow to stern on your own, or take guided tours to places you've only read about. No one tells a story better than the official tour guides with knowledge and insight that is second to none. From the ship's groundbreaking construction and royal launch,  to her duty as a troopship during World War II, from her golden days of the 1950s, to the time she earned the nickname the "haunted ship", the Queen Mary's history is full of action, adventure, romance and paranormal activity. Learn about Winston Churchill's relationship with the Queen Mary when visiting "Their Finest Hours" exhibition, and see original set pieces from the award-wining film, "Darkest Hours."  Visit the "Cunard Story" exhibit and explore the rich history of the extraordinary Cunard Company that designed and built more than 150 world-class ships.
The most discerning diners in your group will delight in the award-winning California cuisine and acclaimed wine list of Sir Winston's Restaurant. With its lively atmosphere, Chelsea Chowder House & Bar is a contemporary take on a traditional chowder house. The Promenade Café is Perfect for a satisfying breakfast, including a breakfast buffet and savory lunch. The Observation Bar--the playground of the cool--offers 1930s sophistication and style. Formerly the first-class lounge, the bar is the hub for lively discussions over drinks with Happy Hour every Monday through Thursday from 4p.m. to 7p.m. On Sunday mornings, the Queen Mary's award-winning Royal Sunday Brunch boasts over 50 main entrees from a seemingly endless buffet.
Enjoy your stay aboard the Queen Mary, and take advantage of all the wonderful sights, sounds and tastes the ship has to offer.
Learn more about the Queen Mary at queenmary.com.
For reprint and licensing requests for this article, CLICK HERE.