Most Influential Women in Accounting 2019: Parnia Pandkhou
Custom Content by the Los Angeles Business Journal
Tuesday, October 15, 2019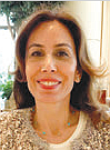 PARNIA PANDKHOU
Director, Outsourced Finance Accounting & Consulting Services
Armanino LLP
Parnia Pandkhou is steering the accounting profession into unchartered territories as laws change, the marketplace shifts and business needs transform from industry to industry. She is a director of Outsourced Finance Accounting & Consulting Services (OFA) at Armanino LLP. Pandkhou manages a team of accountants, bringing in-depth experience in acting CFO roles, along with her keen skills in auditing, budgeting, management, corporate finance, managerial finance and project finance.
A former CFO and controller, Pandkhou has over 15 years of public and private accounting experience. She serves clients in a wide range of industries, including real estate, cannabis, bioplastics, and technology. Taking a comprehensive approach, inclusive of operational aspects, she provides expertise in financial planning and analysis driven by KPIs. Her most notable professional accomplishments have been in leading the OFA team into the newly-burgeoning cannabis industry, as well as expanding OFA services in real estate.
For reprint and licensing requests for this article, CLICK HERE.