Most Influential Women in Accounting 2019: Patricia O'Connell
Custom Content by the Los Angeles Business Journal
Monday, October 14, 2019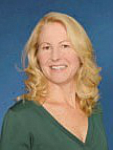 PATRICIA O'CONNELL
Partner and Chief Operating Officer
Holthouse Carlin & Van Trigt LLP
As COO of Holthouse Carlin & Van Trigt LLP, Patricia O'Connell leads many of the firm's strategic and operational initiatives, including many that are transformational to the organization. In leading these projects, she identifies the root causes of process inefficiencies and welcomes ideas and solutions from team members regardless of tenure. As a collaborative, pragmatic, and approachable leader, she sets the right tone at the top.

As a member of the firm's executive committee, O'Connell is helping to shape the future of HCVT, addressing technology, virtual/remote work arrangements, privacy, security, attracting, developing, and retaining the right people, continuing to provide value to clients and providing a work environment where all can thrive. O'Connell is a member of the Women @ HCVT, the firm's initiative that is building a work environment that helps to empower, promote, and retain the women of HCVT.
For reprint and licensing requests for this article, CLICK HERE.