A Destination Resort that is Truly One of a Kind
Custom Content by the Los Angeles Business Journal
Tuesday, October 8, 2019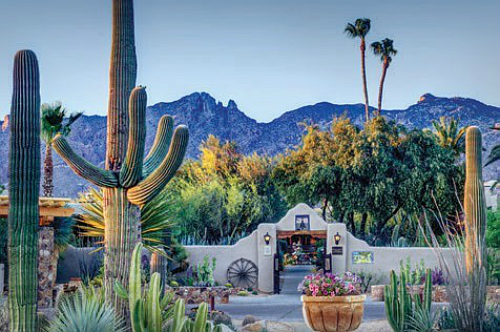 Hacienda Del Sol's unique story began 90 years ago in 1929. Husband and wife architect and designer John and Helen Murphey purchased an area of land nestled at the base of the Santa Catalina Mountain Range in Tucson, Arizona. They built Hacienda del Sol; a desert retreat inspired by early Moorish architecture, designed to be an elite ranch school for the daughters of society's wealthy families. The prestigious school's roster boasted names such as Vanderbilt, Pillsbury, Maxwell, Westinghouse, and Campbell. Ellen Wilson McAdoo, granddaughter of President Woodrow Wilson, was even a student at Hacienda Del Sol.
In the late 1930's, renowned architect, Josias Joesler, was commissioned to rebuild and redesign sections of the ranch, adding his notable signature to many architectural details. Many of his signature architectural elements remain for guests to enjoy today.
In 1944, Hacienda Del Sol was converted into a guest ranch that immediately attracted the Silver Screen's most popular stars. Legend has it that the Casita Grande was a favorite romantic hideaway of Spencer Tracy and Katharine Hepburn. Today, the two-bedroom Casita Grande features photos of the two stars, panoramic desert views and a newly renovated kitchen. Not only did Spencer Tracy and Katharine Hepburn frequent Hacienda Del Sol, leading men John Wayne and Clark Gable both signed their names to the hotel's illustrious guestbook. Howard Hughes, who owned a filming studio in Tucson at the time, also found comfort and privacy at Hacienda Del Sol. Many of the historic rooms sprinkled throughout the 59-room resort are named after these famous guests.
The guest ranch was forgotten for some time until 1995 when fate landed the secluded property into the loving hands of a group of Tucson investors. With the vision of returning the ranch to its original glory, the owners have continually renovated and renewed Hacienda Del Sol with special care. In 1997, The Grill restaurant was opened, and continues to be one of Arizona's finest dining venues. In 1999, a major restoration of the hotel was completed, retaining and enhancing the original integrity of the architecture and landscape. The same owners run the historic guest ranch to this day.
In late 2015, the resort added thirty-two luxurious new guest rooms with stunning views of the city and mountains, a negative edge swimming pool and a beautiful event space called Casa Luna that can host up to 250 people for special events. In 2019, Hacienda Del Sol received the prestigious honor of being designated a Forbes 4-star resort.
Today, the story continues. Hacienda Del Sol remains a boutique destination resort for those who seek authenticity and expect the unexpected: carefully preserved history, luxurious amenities, award-winning culinary offerings and organic spa indulgence.
Hacienda Del Sol is included in the National Registry of Historic Places in Arizona, and is pleased to be a member of Historic Hotels of America. Hacienda Del Sol is also a member of Historic Hotels Worldwide, which is dedicated to promoting heritage and cultural travel to prestigious historic treasures.
Learn more at haciendadelsol.com.
For reprint and licensing requests for this article, CLICK HERE.