Corporate Citizenship & Giving Guide: Empower Your Philanthropy Through a Donor Advised Fund
Custom Content by the Los Angeles Business Journal
Wednesday, November 20, 2019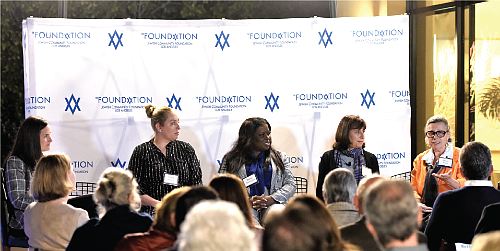 These pages feature a variety of nonprofits that are improving our communities, saving lives, lifting spirits, and repairing the world. A fundamental concept of Judaism is just that—a duty to heal the world—also known in Hebrew as Tikun Olam. As you set forth on a path to support organizations like the ones on these pages, you might wonder whether your charitable gifts will make the impact you hope for.
We at the Jewish Community Foundation of Los Angeles (The Foundation) guide and support our donors to become the most effective and informed philanthropists possible. The Foundation prides itself on helping donors support a wide range of societal needs, such as healthcare, arts and culture, education, at-risk youth, homelessness—among many others—along with numerous Jewish causes.
SIMPLIFY YOUR GIVING
One of the smartest ways to enhance your charitable giving is through a Donor Advised Fund—essentially a charitable checking account—at The Foundation, which offers you convenience and flexibility with your donations. Whether contributing cash, securities, real estate, or other appreciated assets, you will receive an immediate charitable tax deduction. You can recommend grants to your favorite charities on your own schedule, and you may select investment options to potentially grow your charitable resources. We streamline the entire process by handling the administrative responsibilities, freeing you to focus on the joy of giving.
A Donor Advised Fund at The Foundation offers you these key benefits:
With an initial contribution of at least $5,000, you can create your own Donor Advised Fund in which your charitable dollars remain in one convenient account.

Once you have opened the fund, you will receive an immediate fair market value charitable tax deduction.

Convenience and flexibility enable you to recommend grants of $100 or more to a nearly limitless range of nonprofit organizations, Jewish or otherwise, anytime, locally, nationally, or in Israel.

You'll have convenient 24/7 online access to your fund. You will be able to review your fund's balance and giving history whenever you wish. Plus you can add to your fund anytime with a credit card or online check (ACH).

If your fund's balance is $50,000 or more, you can access several types of investment options providing diversity and potential tax-free growth for your fund's assets.

If you own appreciated assets such as securities or real estate—or if you plan to sell a business—a Donor Advised Fund is the ideal way to maximize your tax benefits. For example, when you donate appreciated assets, you can avoid capital gains taxes.

You can create a legacy for your family without the burdens of a private foundation. Unlike a private foundation, there's no minimum annual distribution requirement, and you maintain total privacy.

Our Center for Designed Philanthropy offers our donors complimentary philanthropic consultations and educational programs on giving more strategically. For example, we can help you determine which causes or programs to support based on your passions and field of interest.
LEADERS IN JEWISH PHILANTHROPY
The Foundation has 65 years of experience, comprises more than 1,300 donor families, and holds over $1 billion of charitable assets. As such, there are countless reasons to create a Donor Advised Fund with The Foundation—not the least of which is the peace of mind that comes from knowing you will have a powerful charitable tool in your hands at L.A.'s preeminent foundation for Jewish philanthropy. With extensive resources at our disposal, we can provide you with creative ideas to address all your giving needs.
MULTIGENERATIONAL GIVING OPPORTUNITIES
According to a study from Lilly Family School of Philanthropy at Indiana University, children whose parents actively talk to them about giving are 20 percent more likely to give to charity than are children whose parents don't do this. This is why we suggest engaging your family early on to discuss your charitable values and decision-making process.
To transmit their philanthropic values, many of our donors have opened funds at The Foundation for their children and/or grandchildren, too. This multigenerational trend is catching on, allowing the younger generations to establish early roots in philanthropy and enabling them to experience firsthand the fulfilling power of giving.
HEALING THE WORLD TOGETHER
Winston Churchill said, "We make a living by what we get, but we make a life by what we give."
At The Foundation, we work with many families who feel it is our duty as a community, as a society, and as humankind to care for and give to those in need.
The organizations featured in this publication are certainly doing their part to help heal our world. Their dedication and vision for a better tomorrow is truly inspiring. Whichever giving vehicle you use to support your favorite charity, know that you too are playing a vital role in Tikun Olam.
Let us help you maximize your giving potential through a Donor Advised Fund or other charitable methods. Please contact us at (323) 761-8704 or e-mail development@jewishfoundationla.org. We welcome the opportunity to assist you.
Dan Rothblatt is Executive Vice President of the Jewish Community Foundation of Los Angeles. Learn more at jewishfoundationla.org.
For reprint and licensing requests for this article, CLICK HERE.