Corporate Citizenship & Giving Guide: Bringing Innovation to Los Angeles' Housing Crisis
Custom Content by the Los Angeles Business Journal
Wednesday, November 20, 2019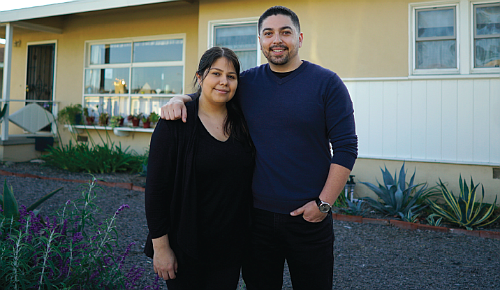 Every day, millions of Americans struggle with the cost of owning or renting a home. We especially see this here in Los Angeles, where the gap in affordable homes is estimated at 26 available for every 100 extremely low-income renter households according to the Urban Institute. It's not just Los Angeles working to address this problem. One-third of U.S. households spend more than 30 percent of their income on housing. And 18 million of those spend more than 50 percent to keep a roof over their head. People should not have to sacrifice basic needs like food, healthcare, and education to cover the cost of housing.
While housing affordability is a nationwide issue, it won't be solved by one company or one level of government. Together, we need to look at how to bring down the cost of construction, foster innovative financing and increase support services to spark revitalization. We need to support small business and give entrepreneurs greater access to capital and training to stay in the neighborhoods they love – bringing well-paying jobs that can help people afford a home. And we need to lift people out of poverty by building financial wealth.
How will we do this? Corporate philanthropy is helpful, but it will take bolder thinking. Complex problems can't be solved by checkbooks alone. We need to deeply understand the issues around housing affordability in Los Angeles, to identify the best minds with the best solutions in our communities – and scale them. As Los Angeles Region Bank President, I see firsthand the tremendous impact that local organizations such as Neighborhood Housing Services of Los Angeles County (NHS) are having, one family at a time.
Earlier this year, we worked with NHS on our NeighborhoodLIFT program. The program which is Wells Fargo Fargo's largest philanthropic effort has created more than 21,000 homeowners nationwide since 2012, pouring more than $460 million into sustainable homeownership and neighborhood revitalization in 70 markets across the U.S. We launched our very first LIFT program seven years ago in Los Angeles where we created nearly 390 homeowners. Fast forward to seven years later, the program came back to our beloved city with a $9.8 million effort aimed at creating several hundred more homeowners. Like that of Kenneth and Leah Martinez. The siblings were looking at purchasing a home and through the LIFT program they were able to become first time homeowners.
Our commitment to tackle housing affordability
The corporate sector is starting to realize that a deeper commitment is needed. For example, Wells Fargo has committed $1 billion in philanthropy through 2025 to help tackle housing affordability with a focus on innovation, including a $20 million Housing Affordability Breakthrough Challenge to find and elevate creative ideas around housing. It is designed to uncover new financing models, ways to lower building costs and methods to deliver support services such as aging in place or transitional housing. As a leading mortgage lender and provider of financing to developers, we are also investing in new solutions around multi-family housing, as no state in the country has enough affordable rental inventory. But it will take collaboration with public and private sectors and an appetite to discuss land use and other challenges for builders and investors.
Solving a challenge that has built up over decades requires fresh ideas and a sense of urgency. Working together as one Los Angeles, we can find answers that bring more stability to individuals and families across the city.
As we close the 2019 year, at Wells Fargo our hope is that we are creating solutions through our philanthropic efforts to build stronger communities. On behalf of the more than 8,000 team members who serve our customers in Los Angeles County, we thank you for allowing us to be an active part of the community.
Michael Ormonde is the Los Angeles Region Bank President for Wells Fargo.
For reprint and licensing requests for this article, CLICK HERE.