Corporate Citizenship & Giving Guide: American Honda Finance Corporation Makes Dreams Possible
Custom Content by the Los Angeles Business Journal
Wednesday, November 20, 2019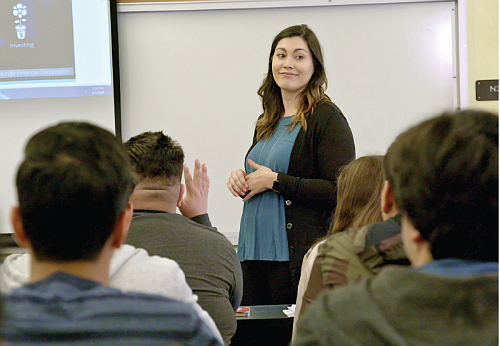 At American Honda Finance Corporation (AHFC), we know the true measure of a company isn't just great products, but the impact that it has on society. Our vision is to empower our customers with access to creative, flexible and responsible financial services. We strive to be a company that society wants to exist and are committed to making a difference in our local communities and beyond.
Youth education is a focus of our philosophy, which is why in 2015, AHFC and Junior Achievement USA (JA) teamed up in a four year, $1.8 million sponsorship in support of their JA Personal Finance program, an interactive and experiential blended-learning curriculum that shows teens how to use credit responsibly, budget and save. Targeted towards high school students, the program is facilitated by volunteers, whose personal and professional experiences teach students valuable financial practices.
Through the investment from AHFC, JA was able to revamp the program for students in the 21st century by incorporating digital technology and interactive games related to financial literacy. Within the last four years, the program has benefited nearly half a million teens nationwide, giving them the knowledge they need to reach their financial goals, whether it's buying their first car, starting their own business or owning a house.
In addition to supporting the JA Personal Finance program, AHFC has also worked on an interactive learning course to prepare teens for the responsibilities that come with car ownership. When a national survey revealed that teen drivers lacked basic knowledge of auto financing and the cost of vehicle ownership, AHFC and JA created a website (www.financialtestdrive.org) to help young drivers navigate the financial aspects of owning and maintaining a vehicle. The website tests their knowledge through an interactive quiz and provides helpful information related to financing options, insurance coverage, routine maintenance and budgeting.
"AHFC works with JA to give students a strong financial foundation, so they can create a future they envision for themselves," said Ferrell Kemp, vice president, AHFC. "Since buying a car is usually one of the first major financial decisions they'll make, it's important for us to equip students with the education they need to make sure they're ready for the responsibilities of car ownership. Overall, our goal is to empower the next generation and help make their dreams possible."
In our own neighborhood
With AHFC headquartered in Torrance, California, we're able to connect with JA of Southern California (JA SoCal) and the low-to-moderate income schools they serve every day. We encourage our associates to volunteer for JA SoCal to provide the critical, but often overlooked programs focused on financial literacy, entrepreneurship and work-readiness skills, to K-12 students. As a result of these volunteer services, our associates have gained stronger communication, presentation and leadership skills. Additionally, many of our associates are inspired by the transformation that happens in the classroom and are excited to return each year. These personal connections to the school, teachers and students highlights that AHFC is committed to helping the next generation fulfill their dreams.
Prev Next
For reprint and licensing requests for this article, CLICK HERE.