Corporate Citizenship & Giving Guide: Los Angeles Regional Food Bank
Custom Content by the Los Angeles Business Journal
Tuesday, November 19, 2019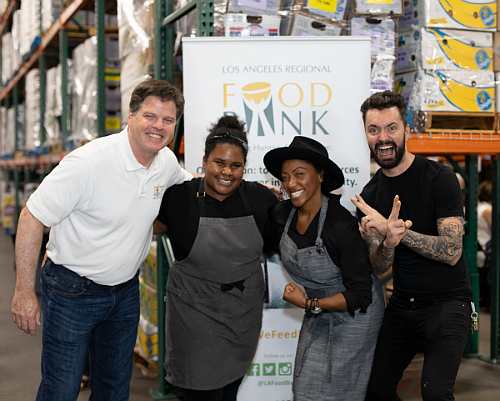 Los Angeles Regional Food Bank:
1734 E 41st St, Los Angeles, CA 90058
323.234.3030
pr@lafoodbank.org
LAFoodBank.org
Leadership
Executive Leadership
Michael Flood
President and CEO
Board of Directors
David Bishop, Chairman
David Bishop Media
Tonya Agurto
Disney
Lena Al-Sarraf, DO
Asian Pacific Health Care Venture, Inc.
James P. Beaubien
Latham & Watkins LLP
Sergio Bicas-Klein
YummyEarth
PJ Brice
Beach House Group
Sandra L. Burns
Ernst & Young LLP
Christina Carroll
Stout Risius Ross, Inc.
Bradford E. Chambers
Bank of America/Merrill Lynch
Stephanie Edens
Wolfgang Puck Catering
Jonathan L. Friedman
Skadden, Arps, Slate, Meagher & Flom LLP
Dean Hallett
Hallett Leadership
Meredith Hightower
HBO Entertainment
Katrina Hitz-Tough
Sony Pictures Entertainment
Dylan Jadeja
Riot Games
Whitney Jones Roy
Sheppard Mullin Richter & Hampton LLP
Catherine Khan
Gary Kirkpatrick
G & R Holdings
Robert Kronfli
Bacari Restaurants
Jordon Kruse
Oaktree Capital Management
Susan K. Leonard
PricewaterhouseCoopers LLP (Retired)
Dan Lukas
Emerald Lake Capital Management
David Luwisch
Credit Suisse
Silvano Merlo
Marriott International
Michael Montgomery
Montgomery Advisory, LLC
Abhilash Patel
Entrepreneur and Investor
Robert Perille
Shamrock Capital Advisors (Retired)
Felix Recht
Transom Consulting Group
Cary Rubinstein
Union Bank
Yves Saada
Amy Jo Smith
The Digital Entertainment Group
Mark Stegemoeller
Latham & Watkins (Retired)
James A. Thomson, Immediate Past Chairman
RAND Corporation (Retired)
Justin Toner
Capital Group
Lindsay A. Wilcox
Goldman Sachs
Michael Flood (officer)
President and CEO, Los Angeles Regional Food Bank
Steven Meisberger (officer)
Chief Financial Officer, Los Angeles Regional Food Bank
Weldon Wu (officer)
Corporate Secretary, Los Angeles Regional Food Bank
Mission Statement:
The mission of the Los Angeles Regional Food Bank is to mobilize resources to fight hunger in our community.
• Source and acquire food and other products and distribute to needy people through charitable agencies or directly through programs;
• Energize the community to get involved and support hunger relief;
• Conduct hunger education and awareness campaigns and advocate for public policies that alleviate hunger.
Service Area
The Los Angeles Regional Food Bank serves all of Los Angeles County, the most populous county in the United States. Approximately 2 million people in LA County face food insecurity.
Fast Facts
What are your Charity Navigator and Guide Star ratings?
Our Charity Navigator Rating is 4 stars.
We are proud to be rated a "4-star" organization by Charity Navigator and a "Platinum Seal of Transparency" organization by Guide Star.
What percentage of total revenue goes to cause (after operation expenses)?
97% of revenues, financial and in-kind, go directly to programs.
What was your greatest community impact in 2019?
In 2018, we distributed 67 million pounds of food, the equivalent of 56 million meals. We are on pace to exceed these numbers in 2019, tracking ~23% ahead year-over-year.
Fundraising Events (or Areas of Funding)
The Los Angeles Regional Food Bank has two flagship events. The "Taste of the Rams," which is a joint venture between the Food Bank, the Los Angeles Rams and the LA Chef community. The Annual "Season for Sharing" Luncheon is held each year to highlight those friends who have made a significant contribution to fighting hunger in our community.
There are other opportunities for third-party events and co-ventures, such as the "Feed SoCal" campaign with Albertsons and ABC7 and the annual checkout campaign with NORMS restaurants.
Volunteer Opportunities
Volunteers are critical to the Food Bank. More than 37,000 volunteers donated their time in 2018 to glean, sort and package food for our neighbors in need.
The Food Bank provides volunteer events and opportunities for corporations and organizations. In 2018, the Food Bank hosted special volunteer days with many corporate partners and VIPs, including Metallica, Riot Games and Target.
Learn more at LAFoodBank.org/volunteer.
Giving Opportunities
The Food Bank's Program Operating Fund supports essential functions, including the acquisition, storage, transportation and distribution of more than 1 million pounds of food every month. Food is distributed to children, seniors, working families and individuals through more than 600 partner agencies.
Generous donors also support the Mobile Food Pantry program, which delivers food to working families, children, seniors and college students in areas that do not have access to an agency distribution site. One site has been generously sponsored by Barilla, who also provides cooking classes for participants.
The Food Bank's Senior Nutrition Program, one of the largest Senior Nutrition Programs in the United States, provides monthly food kits to more than 28,000 seniors through the Commodity Supplemental Food Program (CSFP).
One in four children in Los Angeles County may not know where their next meal is coming from. The Children's Nutrition Programs provide healthy breakfasts, after-school meals, summer lunches, weekend meals and bags of fresh produce. At schools in South Los Angeles and Compton, the BackPack Program provides weekly meal kits for students who need food assistance during the weekend.
For reprint and licensing requests for this article, CLICK HERE.