Corporate Citizenship & Giving Guide: LA's Best
Custom Content by the Los Angeles Business Journal
Tuesday, November 19, 2019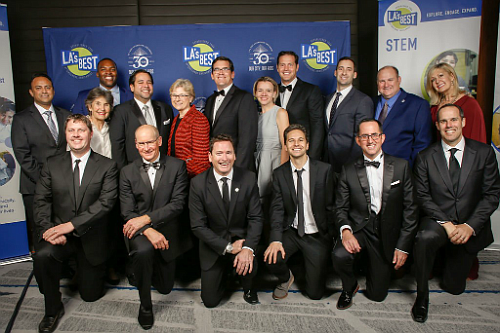 LA's Best:
Office of the Mayor
200 North Spring Street, M-120, Los Angeles, CA 90012
llasbest.org
SERVICE AREA
LA's BEST plays a vital role in the lives of more than 25,000 elementary school students who come from neighborhoods with the fewest resources and the greatest needs across Los Angeles.
MISSION STATEMENT
LA's BEST Afterschool Enrichment Program provides a safe and supervised afterschool education, enrichment and recreation program for children ages five to 12 in Los Angeles.
Leadership
Executive Leadership
Eric Gurna
President & CEO
Amber Martinez
Vice President of Development
Debe Loxton
Chief Operating Officer Board of Directors
Chair: Christopher D. Dusseault
Gibson, Dunn & Crutcher LLP
Vice Chair: Mary Odell
The Riordan Foundation
CFO: Robert L. Wicke
Deloitte Consulting
Adam Deromedi,
AECOM
Alberto Diaz
United Airlines
Trudi Ferguson
USC, Marshall School of Business
Neal Fraser
Redbird, Vibiana, Fritzi Coop
Ruben Gonzalez
Gonzalez Strategic Affairs and Senior Advisor to the CEO of the Los Angeles Chamber of Commerce
Eric Gurna
LA's BEST Afterschool Enrichment Program
Gerald L. Katell
Katell Productions & LLC and Katell Properties, LLC
Lyndal Larkin
NEXT
Heather Lord
Capital Group
Malik
Southern California Gas Company
Damián Mazzotta
Zero Gravity
Dakota Ortiz
Endeavor
Samira Poulos
Philanthropist
The Honorable Richard J. Riordan
The Riordan Foundation
June Sale
Child Care Consultant
Teresa Samaniego
ABC7
Dean Schramm
The Schramm Group
Cameron Strang
Philanthropist
David Travers
ZipRecruiter
For reprint and licensing requests for this article, CLICK HERE.