Corporate Citizenship & Giving Guide: Junior Achievement
Custom Content by the Los Angeles Business Journal
Tuesday, November 19, 2019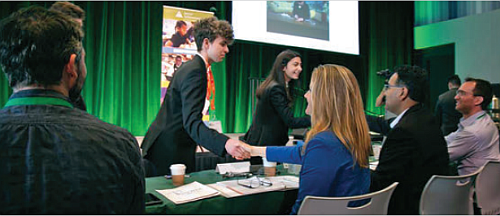 Junior Achievement:
6250 Forest Lawn Drive, Los Angeles, CA 90068
323.9571818
info@jasocal.org
jasocal.org
Mission Statement
To inspire and prepare young people to succeed in a global economy.
We believe every child deserves the opportunity to take control of their own economic future. Through a community partnership of business leaders, schools and volunteers, we teach young people how to make smart financial decisions, prepare for the working world, and become entrepreneurs. We inspire them to dream big and see a world of limitless opportunities for their futures. Together, we are teaching our next generation the business of life.
Service Area
JA SoCal serves over 58,000 students throughout Los Angeles County, Kern County, Orange County and the Inland Empire. 75% of the students we serve in LA Country are considered socio-economically at-risk with incomes at or below 180% of the Federal poverty rate and 90% come from ethnic minority backgrounds.
Fast Facts
JA SoCal is shaping the college and career-readiness conversation and plays an important role in Southern California's economic development by addressing the current skills gap and creating a pipeline of future employees through programs like JA Job Shadow.
Our curriculum is taught in over 300 schools by volunteers who infuse the lessons with their own personal experience, creating a meaningful learning experience.
JA Finance Park, the only high-impact, experiential education center of its kind in SoCal, allows middle and high school students to experience personal finance education using a simulation inside this vibrant,10,000 sq ft. financial literacy lab!
Leadership
Executive Leadership
Les McCabe, Ph.D.
President and CEO
Board of Directors
John Tipton
Chair of the Board, Allen Matkins Leck Gamble Mallory & Natsis LLP
Rhonda Endo
Secretary, American Honda Finance Corp.
Steve Dolcemaschio
Treasurer & Finance Chair, NBC Universal (Retired)
Neeta Pate
Education Chair, Aerojet Rocketdyne (Retired)
Sam Sheth
Development Co-Chair, VerityPoint
Frank McMahon
Development Co-Chair, American Discovery Capital
Marshall Mathison
Governance Chair, Deloitte, LLC. (Retired)
Tom McCarthy
At Large, McCarthy Cook
& Co.
Mark Spratt
At Large, PricewaterhouseCoopers LLP
Michelle Lee
At Large, Delta Air Lines
Emeritus Members:
Lou Lucido
John Kelly
Andy Ratner
See complete Board of Directors list at:
https://jasocal.org/board/
What is your Charity Navigator Rating?
Charity Navigator: Silver Rating
What percentage of total revenue goes to cause (after operation expenses)?
75% of funding goes directly to programming.
What was your greatest community impact in 2019?
JA SoCal provided 58,000 K-12 students, from over 300 local schools with financial literacy, work readiness and entrepreneurship education. We've pivoted our goals to allow us to provide better program saturation within areas of greater need.
Fundraising Events (or Areas of Funding)
• The Annual Spirit of Achievement Awards Gala: November 21, 2019 at the Beverly Hilton
• 2020 Junior Achievement Student Entrepreneurship Challenge (JASEC): March 27, 2020
• The Annual JASoCal Golf Classic: May 4, 2020, at the Riviera- Pacific Palisades
• JA OC Stock Market Challenge: October 2020 at The Pacific Club
• JA OC Leading Ladies: April 2020
• JA OC Men's Real Talk: October 2020
Volunteer Opportunities
• JA Classroom Volunteer: JA classroom volunteers lead JA-developed lesson plans to students
in grades K-12. Deliver engaging, easy-to-follow lessons infused with your unique experiences.
• JA Finance Park Volunteer: spend a day in JA Finance Park simulations guiding a small group
of students through creating a personal financial budget.
• Subject Matter Experts: 1+ hour commitment sharing your expertise with students enrolled in
JA Company Program. Volunteers guide student teams in an area of business finance, marketing,
sales, supply, or management.
• Special Events: help facilitate one of JASoCal's annual special events such as our Golf Classic, Entrepreneurship Challenge, Camp Achieve and other program events.
• In-Office/Administrative: Volunteers can help in our offices for short- or long-term projects
(e.g. kit rebuilding, event basket-making, mailing preparations, etc)
Giving Opportunities
• Giving Tuesday: Annual Individual Giving Campaign- December 3, 2019
• JA Campaign for Kids: Includes the expansion of program outreach and investment in new program, 3DE. Begins 2020. Contact for details.
• JA Finance Park: Store front sponsorship / numerous naming and branding opportunities available.
• Program Investment Opportunities: Adopt a school or neighborhood to increase JA program saturation levels within areas with the greatest need; Sponsor a middle or high school's visits to
JA Finance Park; Participate in a JA Job Shadow at your business.
• JA Club 54: Monthly Giving Club
• JA Free Enterprise Society: Major Investor/ 10K+ annual giving
• JA Heritage Society: Planned Giving
• In-Kind Donations
Goals for 2020
• Maximize the number of students accessing JA Finance Park from 7,500 to 15,000 annually.
• Launch 3DE. A progressive joint venture blending Junior Achievement with LAUSD and the broader business community to re-engineer the education model with a fully immersive, integrated & interdisciplinary school-within-a-school.
• Grow and diversify our volunteer base with a goal of exposing our students to a variety of industries
that represent both the current and future business world which will help create a pipeline of future employees.
For reprint and licensing requests for this article, CLICK HERE.