Corporate Citizenship & Giving Guide: Getty
Custom Content by the Los Angeles Business Journal
Tuesday, November 19, 2019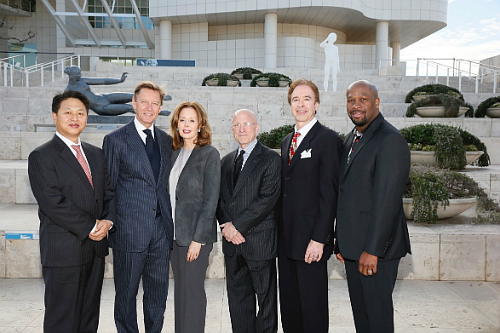 Getty
1200 Getty Center Drive, Los Angeles, CA 90049
310.440.7700
giving@getty.edu
Mission Statement
The J. Paul Getty Trust is a cultural and philanthropic institution dedicated to the presentation, conservation, and interpretation of the world's artistic legacy.
Through the collective and individual work of its constituent programs—the Getty Conservation Institute, the Getty Foundation, the J. Paul Getty Museum, and the Getty Research Institute—the Getty pursues its mission in Los Angeles and throughout the world, serving both the general interested public and a wide range of professional communities in order to promote a vital civil society through an understanding of the visual arts.
Service Area
Through ambitious projects in Los Angeles and around the world, the Getty works to make a lasting difference in art historical research, conservation and museum practice, and to promote knowledge and appreciation of art.
Leadership
Executive Leadership
James Cuno
President and CEO
Board of Directors
Mary Schmidt Campbell
Spelman College
Megan B. Chernin
The Los Angeles Fund for Public Education
James Cuno
J. Paul Getty Trust
Bruce W. Dunlevie
Benchmark Capital
Drew G. Faust
Harvard University.
Maria Hummer-Tuttle
Philanthropist
Pamela J. Joyner
Avid Partners, LLC
Ronald S. Lauder
Philanthropist
David L. Lee, Chair
Clarity Partners, LP
Robert W. Lovelace
Capital Group Companies
Thelma Meléndez de Santa Ana
Inglewood Unified School District
Ronald P. Spogli, Vice Chair
Freeman Spogli & Co.
John Studzinski
PIMCO
Fast Facts
What percentage of total revenue goes to cause (after operation expenses)?
100% of donated revenue goes to support Getty priorities.
What was your greatest community impact in 2019?
Getty exists to support the world's visual arts and cultural heritage. Our greatest local impact is in welcoming over 160,000 Title 1 students through the Getty Museum's Arts Access program.
Areas of Funding
Getty Patron Program
Individuals who join the Getty Patron Program provide invaluable support to the people and programs that make the Getty a leader in promoting and protecting the world's artistic legacy. Support goes directly to
• World-class exhibitions;
• Education and outreach programs;
• Cultural exchanges and international collaborations with leading and emerging scholars around the world;
• Cutting-edge research led by scientists, conservators, and other professionals addressing the challenges of conserving art, architecture, archaeological sites, and monuments;
• Scholarly programs presenting lectures, symposia, and films; and
• Cultural heritage field projects in countries around the world, including China, Egypt, Jordan,
Malaysia, Peru, and the United States.

Exhibition Sponsorship and Special Initiatives
Individuals, corporations, and foundations support our dynamic array of exhibitions, as well as innovative projects that strengthen the understanding and preservation of the visual arts in Los Angeles, and beyond. The Getty's special initiatives involve collaboration among Getty programs, as well as partner organizations around the globe. This broad intellectual exchange results in stellar exhibitions, as well as groundbreaking research and conservation efforts.
Giving Opportunities
Getty Patron Program
• Annual giving levels to join the Patron Program range from $1,000 to $50,000.

• Patrons who join at the Friend, Associate, Fellow, Partner, or Benefactor level enjoy experiences identified for the specific program level. Benefits range from exclusive behind-the-scenes experiences to curated special events, invitations to exhibition openings and selected public programs, and VIP parking.
Corporate and Foundation Partner Program
• We work collaboratively with corporate partners to create sponsorships that ensure strong brand recognition and high visibility.
• Corporate partners receive customized benefits designed to meet their philanthropic, marketing, networking, community engagement, and client hosting objectives.
• Foundations that share our vision help to take our exhibitions and educational initiatives to greater heights with their generous financial support.
For reprint and licensing requests for this article, CLICK HERE.