Intellectual Property & Licensing Law : A Roundtable Discussion
Custom Content by the Los Angeles Business Journal
Monday, November 18, 2019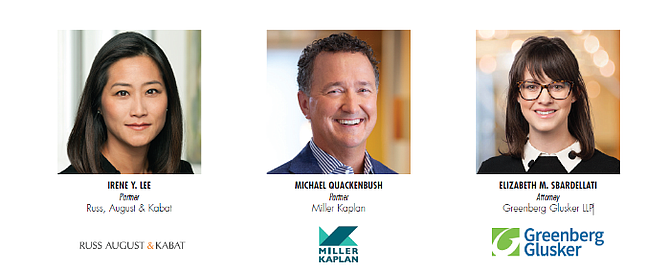 Is there pending new IP legislation coming soon? If so, does this stand to help or hinder existing businesses?
Lee: On October 22, 2019, the Copyright Alternative in Small-Claims Enforcement (CASE) Act passed the House of Representatives, with a vote of 410-6. It proposes creating a voluntary small claims board, called the Copyright Claims Board (CCB), within the U.S. Copyright Office. The CCB will serve as an alternative forum to federal court for copyright owners to bring copyright claims. Here are a few notable provisions. The legislation allows the copyright owner to elect either actual damages and profits, limited statutory damages, or no damages, mirroring the current process under 17 U.S.C. §504. But, the total monetary award in a single proceeding will be capped at $30,000, with a cap of $15,000 in statutory damages per work infringed. In addition to monetary awards, the CCB can impose a requirement on the accused party to cease or mitigate infringing conduct. Further, under the Act each party shall bear its own attorney fees and costs, except when the CCB determines that a party "pursued a claim, counterclaim, or defense for a harassing or other improper purpose, or without a reasonable basis in law or fact." Even then, the attorneys' fees and costs are generally capped at $5,000 or $2,500 for parties proceeding pro se. Finally, to avoid violating the Seventh Amendment's right to a jury trial, defendants facing a copyright claim before the CCB would be allowed to opt out. Groups like the Copyright Alliance, a coalition of entertainment industry groups, praise the Act for providing an "inexpensive and streamlined alternative" for small copyright owners to "protect their creativity and their livelihood." The Act has faced opposition, largely out of fear that it would subject more businesses and everyday content users to a CASE lawsuit. As we have seen in the increasing number of copyright lawsuits, some rightsholders and their attorneys litigate an unauthorized use no matter how small, unintentional, or fair the use is. Whether you are for or against the Act, you will likely see it pass the Senate and be signed by the President in 2020.
When is it time for an IP owner to implement an enforcement program?
Quackenbush: The first step in any solid enforcement program must be registering your patents and trademarks with the US Patent and Trademark Office. Once your trademark is being used either by your company, or is being licensed, you should register your trademark for enforcement purposes with relevant Customs agencies – which should be done right away. You don't want to delay the registration of the trademark with Customs agencies because the trademark's value and recognition could increase dramatically in a short period of time. Failure to adequately protect your trademark could lead to an action whereby another individual or company could make a case that the trademark has been abandoned and that third-party could attempt to claim ownership. You have to establish your ownership with governments and the marketplace and then enforce your rights of ownership. In fact, what many companies often don't realize is that they can (and should) register a trademark with any customs agency that "touches" the goods. Even if it is only passing through the port in a given country, on its way to another country, each Customs agency can still play a big role in keeping an eye out for unauthorized use of your trademarks.
Prev Next
For reprint and licensing requests for this article, CLICK HERE.