Corporate Citizenship & Giving Guide: Alzheimer's Los Angeles
Custom Content by the Los Angeles Business Journal
Monday, November 18, 2019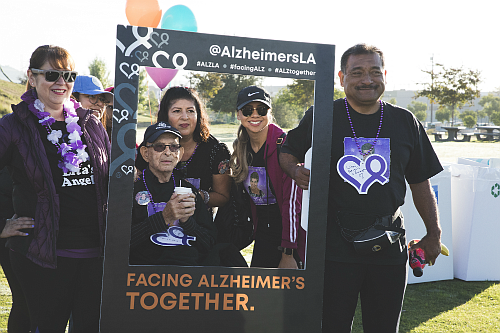 Alzheimer's Los Angeles: 4221 Wilshire Blvd, Suite 400, Los Angeles, CA 90010
AlzheimersLA.org
Mission Statement
Improving the lives of local families affected by Alzheimer's & dementia by increasing awareness, delivering effective programs & services, providing compassionate support, and advocating for quality care and a cure,
Service Area
Alzheimer's LA serves individuals and their families living with Alzheimer's and other dementias in Los Angeles County and the Inland Empire.
Leadership
Executive Leadership
Heather Cooper Ortner - President and CEO
Board of Directors
Jackie Macias - Board Chair, Consultant
Jeffrey Glassman - Vice Chair, Covington Capital Management
Randi Jones - Secretary, Philanthropist
Lisa Chalfin - Treasurer, Warner Pacific Insurance Services Inc.
Mark Liberman - Immediate Past Co-Chair
Matt Reid - Immediate Past Co-Chair, Sard Verbinnen & Co.
John Barnes - First Republic Private Wealth
Niloo Bedrood - Deloitte Advisory
Kenneth Chiate - Quinn Emanuel
Helena Chui, M.D. - University of Southern California
Gary L. Ferrell - Diamond Capital Advisors
Leonor Gavina-Valls - F. Gavina & Sons, Inc.
Ingrid Graham - AMDA College
Winston Greene - Philanthropist
Robert Hirsch - S.A.H. Investments
Susie Levin - Philanthropist
Susan Disney Lord - The Bel Air Restaurant
Kyle Mabry - American Airlines
Beatriz Mallory - SensisHealth
Anne Martinez - Wondery
Kirk Moody - Philanthropist
Tina Pukonen - Pinterest
Elliot Sainer - Philanthropist
Karl J. Schulze - Schulze Haynes Loevenguth & Co., LLC
John & Cynthia - Tiedeman
Val Zavala - Philanthropist
Fast Facts
What percentage of total revenue goes to cause (after operation expenses)?
75%
What was your greatest community impact in 2019?
• Increased public awareness of Alzheimer's Los Angeles, and our free programs & services for individuals and families
• Continued to mprove care for our culturally diverse population
• Continued to decrease reticence in reaching out to Alzheimer's Los Angeles for support
Fundraising Events (or Areas of Funding)
Alzheimer's LA holds many fundraising events throughout the year:
• An Unforgettable Evening®
• walk4ALZ® Los Angeles
• arts4ALZ/Memories in the Making Art Auction
• Visionary Women's Awards Luncheon
• Salon events
Volunteer Opportunities
• Events
• Helpline
• Office administration
• Public policy
• Support group facilitation
• Education programs
• Community outreach
Giving Opportunities
• Online
• Phone
• Matching gifts (contact your HR department)
• Corporate giving
• Planned giving
• Payroll deduction
• Host your own fundraising event
• Donate your unwanted car. Truck, boat or RV
• Event sponsorship
For reprint and licensing requests for this article, CLICK HERE.