Corporate Citizenship & Giving Guide: APLA Health
Custom Content by the Los Angeles Business Journal
Monday, November 18, 2019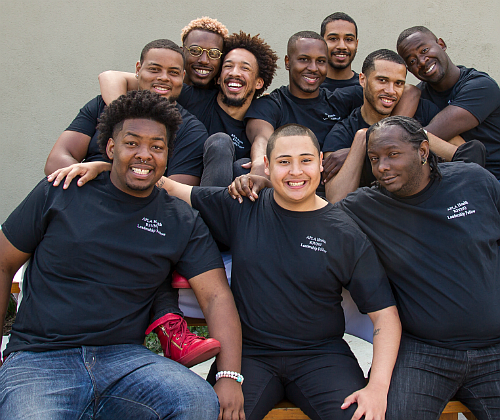 SERVICE AREA
Los Angeles County
MISSION STATEMENT
APLA Health's mission is to achieve health care equity and promote well-being for the LGBT and other underserved communities and people living with and affected by HIV.
FAST FACTS
What percentage of total revenue goes to cause (after operation expenses)?
83.8 percent
What was your greatest community impact in 2019?
-Creation of our HIVE program for older adults living with HIV to combat social isolation and stigma.
-Exceeded goals to connect gay-identified men who use meth to critically needed services.
LEADERSHIP
EXECUTIVE LEADERSHIP
Craig E. Thompson
CEO
Board of Directors
Peter Perkowski
Perkowski Legal, PC
Vice Chair
James M. Patton III
Philanthropist
Alan R. Walden
Capital Group
Janice Littlejohn
Los Angeles Institute for Humanities, USC
Eddie Batchelor
Inspire Tennis Academy
Craig Bowers
Niche Curate
Paula Cannon
University of Southern California
Tracy Cohen
APLA Health Volunteer
Chad D. Franks
KPMG LLP
Anthony Henderson
Novartis
Mark Kadzielski
BakerHostetler LLP
Lee Klosinski
UCLA Nathanson Family Resilience Center
Jessie L. McGrath
Office of Los Angeles County District Attorney
DJ Moore
Latham & Watkins LLP
Natalie Ramos
UCLA David Geffen School of Medicine
John Sealy, M.D., D.L.F.A.P.A
David Geffen School of Medicine at UCLA (Ret)
Cody Sisco
Resonant Earth Publishing, Book Swell LLC
John Squatritto
ABC7 Los Angeles
Ron Sylvester
RS/tv, Inc.
FUNDRAISING EVENTS
• AIDS Walk Los Angeles
• InSight
• Out & Rising
VOLUNTEER OPPORTUNITIES
Vance North Necessities of Life Program, HIVE, AIDS Walk Los Angeles
GIVING OPPORTUNITIES
One-time donations, monthly giving, corporate grants, planned giving,
GOALS FOR 2020
• Open two new health centers to provide medical, dental, and mental health services in South Los Angeles and Mid-City
• Increase access to HIV education and prevention tools for populations disproportionately affected by HIV and AIDS
For reprint and licensing requests for this article, CLICK HERE.