Corporate Citizenship & Giving Guide 2019: American Heart Association
Custom Content by the Los Angeles Business Journal
Monday, November 18, 2019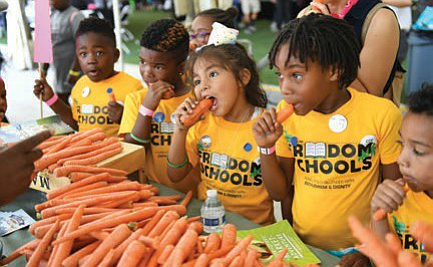 American Heart Association: 816 S. Figueroa St., Los Angeles, CA 90017 | 213.291.7000
heart.org/losangeles
SERVICE AREA
The American Heart Association is a national organization, with the Los Angeles County Division serving the neighborhoods of Los Angeles County.
MISSION STATEMENT
As a relentless force for a world of longer, healthier lives, the American Heart Association is committed to creating a Los Angeles where everyone has equal opportunities to achieve health and wellbeing, free of heart disease and stroke.
COMMUNITY IMPACT IN 2019
• Through community collaborations, we provided more than 80,000 pounds of fresh produce to families in need and successfully advocated for an end to the sale of flavored tobacco in unincorporated LA areas to protect youth health.
LEADERSHIP
EXECUTIVE LEADERSHIP
Shawn Casey
Affiliate Development Officer
Nicolla Ross
Vice President of Health Strategies
BOARD OF DIRECTORS
Bob Lundy - Hooper, Lundy and Bookman
John Gordon Harold, MD - Cedars-Sinai Medical Center
Paul Craig - Keck Medicine of USC
Richard Shemin, MD - UCLA Health
Richard Azar - UCLA Health
Eric Boyer - AT&T Services Inc.
Paul Chu, MD - Allied Pacific IPA
Suzanne DeJong - Ernst & Young LLP
Barbara Ferrer - PhD, LA County Department of Public Health
Jeff Hughes
Maria Hughes
Alice Issai - Adventist Health Glendale
Dino Kasdagly - LA Care Health Plan
Bob Larlee - City National Bank
Mika Leah - Goomi Group
Ray Matthews, MD - Keck Medicine of USC
Ken Orkin - ITG Automotive
Karen Oxman - Hub International
David Pryor, MD - Anthem Blue Cross
Kathryn Shirley - World Management Solutions Inc.
Paul Watkins, JD - Dignity Health Northridge Medical Center
Stephanie Wiggins - Metrolink
FUNDRAISING EVENTS
Go Red For Women Wellness Retreat and Executive Luncheon
Enjoy an empowering morning with a wellness expo, beauty corner, fitness sessions, health panels, networking and a healthy lunch.
April 3, 2020 • westdrift Manhattan Beach • Laura Baker, (213) 291-7051, laura.baker@heart.org lagored.heart.org
Heart & Stroke Ball
A social affair celebrating efforts to build a foundation of health justice and equity in every Los Angeles neighborhood.
June 13, 2020 • The Beverly Hilton Hotel • Lauren Hall, (213) 291-7107, lauren.hall@heart.org or visit lagored.heart.org
Heart Walk
Join the walk to end heart disease and stroke, the No. 1 and No. 2 killers in LA County. Form a company team, or team up with friends and family. Walk as a heart disease or stroke survivor. Walk in honor of a loved one.
Fall 2020, dates TBA • For information, contact Kelsey Muir, (213) 291-7060, kelsey.muir@heart.org, or visit heartwalkla.org.
VOLUNTEER OPPORTUNITIES
Your time and talent are critical to creating a world of longer, healthier lives, starting in Los Angeles. We need your help with the following:
• Year-round Teaching Gardens planting and harvest events in schools
• Bi-weekly Saturday community activities in Harvard Park for our Community STEPS program
• Knit or crochet red hats for Little Hats, Big Hearts program
• Check. Change. Control. blood pressure and cholesterol health coaching
• Kids Cook With Heart classes
• You're the Cure Network – advocate for important health policies
• Worksite Healthy for Good coaches
• STEM mentorship
• Entrepreneurial mentorship for student-run Farmers Markets
• Event support
• Social media ambassador program
• Public awareness campaigns
GIVING OPPORTUNITIES
• Fund one or more of 20 Teaching Gardens that we envision to build in LA County schools by 2020 to teach kids how to grow food and learn the value of eating healthy.
• Fund the expansion of Student Farmers Markets. Our goal is to add 10 by 2020.
• Fund the third year of Community STEPS in Harvard Park, which creates a safe space for dialogue and exercise between community members and law enforcement, and/or support the program expansion to three additional neighborhoods.
• Fund CPR education in 250 high schools in LA County
• Fund the placement of four interactive Hands- Only CPR training kiosks in high-traffic public locations, such as airports, to teach large numbers of people the lifesaving technique in about five minutes.
• Fund the placement of interactive Blood Pressure screening kiosks in large company sites and public places
• Invest in local small markets to improve their business infrastructure and capacity to offer affordable healthy food options.
• Fund innovative, high-impact research projects.
• Invest in our social impact fund to make healthy choices equitable and accessible for all, regardless of their freeway exit.
GOALS FOR 2020
• Work with community partners to provide real solutions to food system problems to increase healthy
food access and affordability
• Address social and environmental barriers to safe walking and biking to promote healthy active living
• Triple philanthropic impact to accelerate scientific discovery
For reprint and licensing requests for this article, CLICK HERE.