Apple
Looking past the iPhone, focusing on digital streaming
Friday, November 8, 2019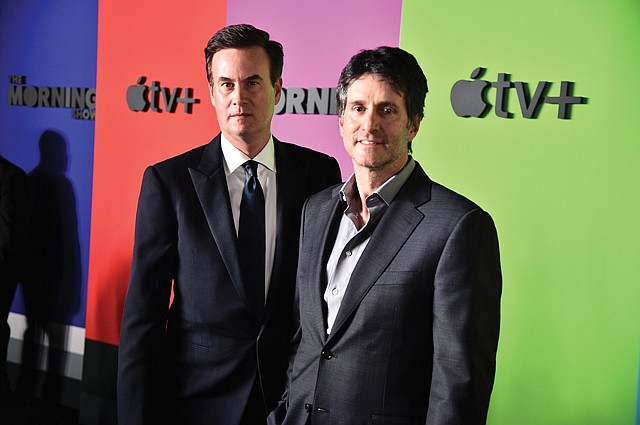 In December Apple Inc. revealed plans to dramatically increase its presence in L.A., saying it would bulk up to more than 1,000 employees in Culver City by 2022.
The company had already announced in January 2018 that it was leasing a four-story, 128,000-square-foot building under construction near the Expo Line station at 8777 Washington Blvd.
The building, which is owned by Lincoln Property Co., and which HBO had previously planned to lease, will house Apple's worldwide video group led by industry heavyweights Jamie Erlicht and Zack Van Amburg.
Apple established a significant presence in Los Angeles in 2014 when it purchased the subscription streaming music service Beats Music and popular headphone maker Beats Electronics for $3 billion. At the time of the acquisition, Beats had around 700 people on its staff and was expected to downsize by about 200 employees that year.
Beats Electronics — which was founded by rapper Dr. Dre and producer Jimmy Iovine — and Apple Music are now headquartered at 8600 Hayden Place in Culver City. Parts of Apple Music will also be housed at the new Washington Boulevard building.
Apple's growth in L.A. marks a major step forward in the company's efforts to expand its business beyond the iPhone by competing with Netflix Inc. and Amazon.com Inc. in the digital streaming market.
That endeavor reached a milestone Nov. 1 when the company launched its ad-free subscription streaming service, Apple TV Plus. Over the past couple of years, Apple has been beefing up its original content. The company plans to spend between $1 billion and $2 billion per year on those efforts along with making key new hires from traditional Hollywood studios and networks.
The 2017 hires of Erlicht and Van Amburg — who had been presidents at Sony Pictures Television and whose programs included "Breaking Bad" — to oversee all aspects of video programming set the stage for Apple.
In December, the company added Tamara Hunter from Sony Pictures Entertainment as head of casting.
Apple's new productions include a fresh version of Steven Spielberg's 1980s TV series "Amazing Stories"; "The Morning Show," a drama starring Jennifer Aniston, Reese Witherspoon and Steve Carell; "Dickinson," a show about poet Emily Dickinson; and "My Glory Was I Had Such Friends," a true-life drama starring Jennifer Garner and produced by J.J. Abrams.
L.A. Office Location: Culver City
Length of Time in L.A.: 5 years
Top local executives:

Jamie Erlicht and Zack Van Amburg, heads of video programming
Oliver Schusser, global head of Apple Music
Employees in L.A.: More than 1,000 by 2022
Primary operations in L.A: Beats, Apple TV Plus, Apple Music, engineering, technical support
For reprint and licensing requests for this article, CLICK HERE.