Killer Thirst? Try Liquid Death
Science Inc.-backed water-in-a-can startup raises $1.6 million
Friday, May 31, 2019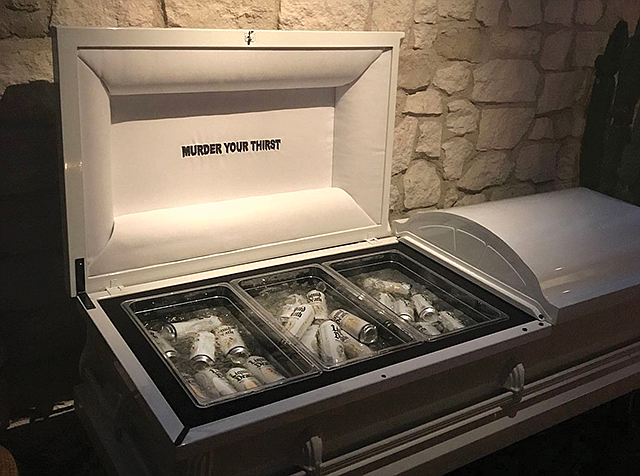 Former Netflix Creative Director Mike Cessario has a new venture: selling tallboys of death-metal branded water to a sober punk crowd.
Called Liquid Death, Cessario's new Santa Monica-based venture promises to "decapitate your thirst" until "the soul of your thirst begins to escape and float towards the ceiling." The startup raised a $1.6 million seed round in May from investors including Santa Monica-based Science Inc.
Michael Dubin, chief executive of Science -backed Dollar Shave Club, also invested in the round alon with Twitter Inc. co-founder Biz Stone and angel investor Gary Vaynerchuk.
Liquid Death was valued at an estimated $7.4 million following the round. Since its founding in 2017, the company has raised a total of $2.3 million, according to industry tracker PitchBook Data Inc. With the latest round of funding, Cessario said in an email, the company plans to hire more staff, scale up inventory and work "to support and elevate weird artists, music, and entertainment. Especially the kinds that would be unlikely to ever get support from most of the big brands."
While it might seem odd that a company selling 12-packs of water for $22 garnered such high-profile investors, it's worth noting that Bellevue, Wash.-based fitness retailer Bulletproof 360 Inc. has raised roughly $70 million and recently launched its own line of water that retails for $28 per 12-pack case.
Water was 2018's most successful mass marketed beverage, selling more than 14 billion gallons.
For reprint and licensing requests for this article, CLICK HERE.