MHALA: Helping Those Who Need it Most
Custom Content by the Los Angeles Business Journal
Tuesday, May 28, 2019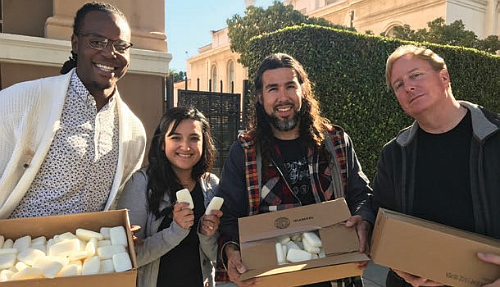 Founded in 1924, Mental Health America of Los Angeles (MHALA) is one of the oldest nonprofit mental health organizations in the country. Each year, the organization serves more than 7,500 adults and transitional age youth (TAY) who are dealing with mental health needs and do not have financial resources, including Veterans, their families, and people who are homeless or previously homeless. Through its fifteen locations in Los Angeles County, MHALA targets those who are the most vulnerable and most in need of help.
MHALA's diverse array of programs allows it to systematically address the needs of people living with mental health needs by providing flexible services that can be tailored to meet any given member's needs. These individuals have faced obstacles such as poor education, underemployment, increased risk of harm to self and/or others, and substance abuse problems. Current service models for this population require them to seek help from a variety of different sources--one place for employment services, another for physical health, yet another for housing, etc. In MHALA's own effort to advance social and economic equity, the organization is striving to integrate services under one roof, and is proud to say that it is truly a one-stop shop.
For more than 30 years, MHALA has focused attention on developing effective, innovative service models to help individuals with mental health needs attain healthy, satisfying, self-sufficient lives. MHALA's services, which are based on its nationally recognized and replicated paradigm of recovery, address the needs of people living with mental health needs by providing integrated, comprehensive services tailored to each individual. To make sure that those MHALA serves not only get housed and survive, but thrive in their communities, areas now being addressed include wellbeing/wellness skills, community connections, and employment. These are priority strategic directions for the organization, in addition to continuing an integrated paradigm and ensuring that services really are fully integrated (especially the integration of mental and physical health).
MHALA now provides services at 15 sites in Long Beach, the Antelope Valley, and Santa Clarita Valley—with training services provided countywide. Services include behavioral and physical health care; case management and care coordination; housing assistance and placement; benefits assistance and financial planning; work training and transportation. While there are both mental health providers and homeless services in these service areas, MHALA is often the only organization with experience in assisting formerly homeless, homeless, and chronically homeless individuals who also have mental health needs. Organizationally, MHALA serves over 7,500 unduplicated individuals annually and helps more than 1,000 individuals find permanent supportive housing. Clients achieve a 56% decrease in hospitalizations and a 70% decrease in incarcerations.
MHALA provides the integrated services needed by those who struggle with mental health diagnoses—particularly those suffering from co-occurring disorders (e.g., mental and physical and/or substance abuse conditions)— to establish stable and independent lives. The organization's service programs allow it to systematically address the needs of its members by providing flexible services that can be tailored to meet any given individual's needs.
Learn more at MHALA.org.
For reprint and licensing requests for this article, CLICK HERE.