L.A. Rising: West Adams
Historic Neighborhood Finds New Development Focus
Friday, May 24, 2019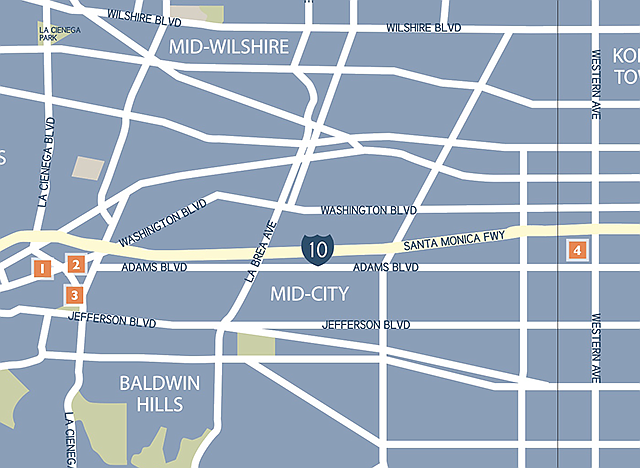 The West Adams neighborhood in South L.A. is known for its historic buildings and Victorian mansions — many areas of the neighborhood have been designated Historic Preservation Overlay Zones, and most buildings in the area were built between 1880 and 1925.
But the neighborhood's distinctly retro vibe is getting a dash of modernity with commercial developers flocking to West Adams after the single-family residential market took off in recent years. The area has seen a recent development boom that includes hotels, retail and residential projects.
The development activity in West Adams shows the increased demand for projects across nearly every property category as companies look to take advantage of a burgeoning population of affluent residents who have flooded the area recently.
Carmel Partners Inc.'s massive Cumulus development will have more than 1,000 apartments and a large retail component. CIM Group Inc. is betting big on West Adams, developing projects that include residential spaces and hotels. In addition to the projects mentioned here, CIM has also filed plans with the City of Los Angeles for two hotels in the neighborhood.
David Pourbaba, founder and chief executive of 4D Development & Investments, said it took him years to assemble the parcels necessary for the E. On Adams mixed-use project but he found the city was relatively accommodating and helpful in shepherding along commercial developments in the neighborhood.
"The city is very supportive of revitalization, of this project and the area, that's why you (see) such a huge influx of different developers coming into town there," he said.
Janice Cimbalo, a senior vice president at Jones Lang LaSalle Inc. said the amount of development in West Adams now is partly predicated on other areas of Los Angeles being built out in recent years.
"Culver City has maximized its development, and it is going east. It makes sense that the space between Culver City and downtown is being built," Cimbalo said.
She added that the Expo Line — the first leg of which opened in 2012 and the second in 2016 — and upcoming Crenshaw Line are also driving the West Adams construction boom.
But the development and influx of wealthier inhabitants has come with a healthy dose of controversy. Some worry that gentrification could force out longtime residents and irrevocably alter the character of the neighborhood as affordable housing options dwindle.
Cimbalo, who lives in the West Adams neighborhood, said some residents are concerned about being pushed out but added that most projects underway have affordable housing components and are in underutilized areas.
"It's become a very hot place for development," she said.
•••
5109 W. Adams Blvd.
Location: 5109 W. Adams Blvd.
Description: CIM Group has filed plans for a mixed-use project with retail and residential components. The project will have 69 residential units and nearly 6,000 square feet of ground-level retail. 
Developers: CIM Group
Architect: NA
Estimated Cost: NA
Estimated Completion: NA
•••
E. On Adams
Location: 5181 W. Adams Blvd.
Description: E. on Adams encompasses an entire city block. The mixed-use project will have 115 apartments, 11% of which are affordable housing units, and 17,000 square feet of retail.
Developers: 4D Development & Investments
Architect: Afco Design Inc.
Estimated Cost: $40 million
Estimated Completion: 2021
•••
Cumulus
Location: 3321 La Cienega Blvd.
Description: The 30-story high-rise will have 100,000 square feet of retail and 1,210 apartments.
Developers: Carmel Partners
Architect: Solomon Cordwell Buenz & Associates Inc. and TCA Architects
Estimated Cost: NA
Estimated Completion: 2022
•••
2231 Western Ave.
Location: 2231 Western Ave.
Description: CIM Group is converting a medical center into 60 live/work apartments. It will also have a 3,000-square-foot rooftop restaurant. 
Developers: CIM Group
Architect: David Lawrence Gray Architects
Estimated Cost: NA
Estimated Completion: Summer 2019
For reprint and licensing requests for this article, CLICK HERE.