SUMNER REDSTONE
Monday, May 20, 2019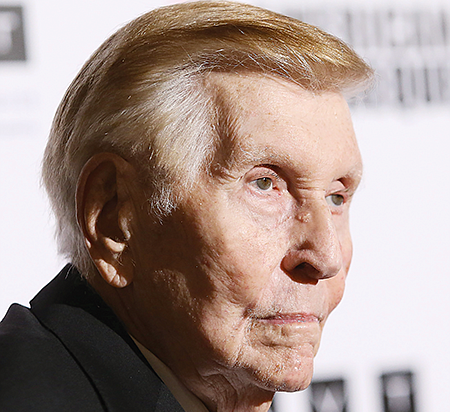 Chairman, National Amusements Inc.
THE LATEST: Earlier this year Redstone settled a legal battle with former girlfriend Manuela Herzer that also involved his daughter, Shari Redstone. Herzer is required to pay back $3.25 million for gifts Redstone had given her over the years. Shari has taken on leadership positions in Viacom and CBS, which the family controls through their privately owned theater chain, National Amusements.
BACKGROUND: Redstone, who is reported to be incapacitated, remains chairman of National Amusements Inc., owner of CBS Corp., Viacom and a chain of 1,500 movie theaters. He was born in Boston and attended Harvard before joining the family theater business in 1954. Redstone became CEO of National Amusements in 1967, and the company purchased Viacom Pictures in 1994. In 2000, Viacom acquired CBS Corp. in a $36 billion deal. The Redstone family has been at the center of a fractious dispute with the CBS board of directors over the fate of the company.
WORTH NOTING: Redstone has an estimated net worth of $4.3 billion, which placed him at No. 17 on the Business Journal's 2018 list of Wealthiest Angelenos.
YEARS ON THE LA500: 4
For reprint and licensing requests for this article, CLICK HERE.