Meatless Movement
Beyond Meat, Impossible ride fake meat's rising popularity
Friday, May 17, 2019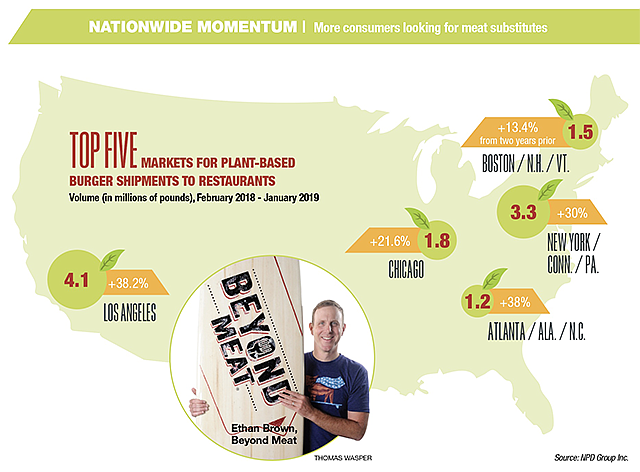 It's no coincidence that Beyond Meat Inc., the first company in more than a decade to nearly triple its value on the first day of public trading, is based in Los Angeles. Vegetarian restaurants dot the city, and the market has a voracious appetite for plant-based foods.
In the last two years, the volume of plant-based proteins shipped to L.A.-area restaurants rose nearly 40% to 4.1 million pounds, according to market researchers at NPD Group Inc. Restaurants in the second largest market, New York, ordered 3.3 million pounds in the year ending in January, up 30% from two years prior.

Chief Executive Ethan Brown moved the company to El Segundo in 2012 to take advantage of the strong local market. Experts say the growing popularity of plant-based proteins in Los Angeles is fueling a movement across the country that's catching on with carnivores.
"The West Coast has always been a bellwether for food trends," said Jeffrey Hirsch, founder and president of Right Brain Studio, a marketing strategy company based in Studio City.
Plant-based food consumption is soaring, and Beyond Meat and its Redwood City-based rival Impossible Foods Inc. are riding the wave. About two-thirds of the growth in vegetarian burger sales have been led by competitors Beyond Meat and Impossible Foods. Unlike vegetarian burgers of the past, these companies promise their product mimics the juicy and tender texture and taste of meat.
"Our competition at Impossible has been and still is meat from an animal. Our core consumers are meat eaters," said David Lee, chief financial officer at Impossible Foods.
On May 14, Impossible announced it raised $300 million in a Series E funding round with A-list investors including tennis star Serena Williams, rapper Shawn "Jay-Z" Carter and singer Katy Perry. The Silicon Valley startup, which had trouble meeting a recent surge in demand, will use the investment to augment production. In all, Impossible has raised more than $750 million.
Nationwide, restaurant orders for plant-based foods jumped roughly 20% in the past year, NPD found.
"It's innovation that has spurred this category," said Darren Seifer, a food and beverage industry analyst at NPD. "The consumer no longer has to think that a meat alternative is a sacrifice."
Earlier this year, fast-food chains Del Taco and Carl's Jr Restaurants began carrying Beyond Meat on their menus. And Impossible Foods got picked up by Red Robin Gourmet Burgers Inc. and Burger King Corp.
"For them to sell the Impossible Whopper is a huge deal," Hirsch said. "They are not doing it because they are altruistic. They are doing it because that's where they think the market is going."
Seifer said it isn't just that vegetarian options are on the rise — consumers are choosing healthier options in general.
Meat-eaters are also becoming increasingly interested in how their food was raised and processed. Interest in organic products and so-called clean food — grown without pesticides or genetically modified organisms — is also increasing, Seifer said.
The data points to a long-term trend, but without years of sustained growth in the meatless burger sector, Seifer said it's hard to tell whether the meatless trend is more than just a fad.
Investors are betting it is. Beyond Meat's initial public offering of $25 a share shot up, and shares have been trading above $65 since the first day.
For reprint and licensing requests for this article, CLICK HERE.