MBA Guide: Loyola Marymount University - College of Business Administration
Custom Content by the Los Angeles Business Journal
Friday, May 10, 2019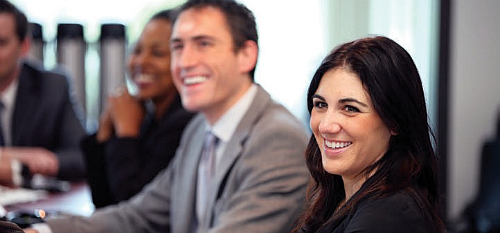 The College of Business Administration at Loyola Marymount University advances knowledge and develops business leaders with moral courage and creative confidence to be a force for good in the global community. Our nationally ranked and accredited graduate business programs have a lot to offer: academically challenging coursework, flexible schedules for working professionals, intimate classroom setting, personalized attention, customized career services, global study opportunities and an active alumni network. Our 142-acre bluff-top campus has expansive views of the Pacific Ocean and is among the nation's most beautiful and green campuses. LMU is located in Playa Vista near major entertainment companies, financial services leaders, top advertising agencies – and is just minutes from Silicon Beach, a thriving creative community of tech innovation and startup activity.
MBA PROGRAM
The LMU MBA Program is designed for individuals with at least two years of professional or internship experience who are ready to take the next step in their careers. Classes are held in the evenings to accommodate working professionals. Students are able to complete their MBA degree in as little as 21 months or up to 36 months. The first year is structured as a cohort to complete the core coursework; the second year offers more flexibility to focus on a selected area of emphasis and electives. Students begin the program with an orientation residential that prepares MBA candidates for successful completion of the program, including team building, a self-assessment, a case analysis, and an introduction to the core curriculum. Students choose between two unique international programs as their required global study component. One takes place in the heart of the European Union in Bonn, Germany while the other tours a specific region of the world to conduct research on a chosen business topic. Professional development workshops, exclusive employer roundtables, career advice and alumni mentors are just some of the offerings provided by the Office of Graduate Career Management. The experienced staff help MBA students strengthen their career paths, transition into new industries or functions, and assess where skills can be improved to achieve career goals. The MBA Student Association and MBA Alumni Association provide a variety of valuable professional development and networking opportunities. Our focus is on providing students not just with an MBA degree, but with a complete learning experience that will elevate their careers, personal growth and increase their marketability in the workforce.
EXECUTIVE MBA PROGRAM
The LMU Executive MBA Program is one of Southern California's premier, most respected EMBA programs. Designed for mid-career executives with a bachelor's degree and at least eight years of professional, managerial or entrepreneurial experience, our 20-month program provides students with the skills, talents and confidence to develop and lead high-performance teams. The LMU Executive MBA addresses management and leadership within a broad spectrum of organizations and teaches students how to understand core business principles, develop leadership intelligence, apply knowledge and learn to execute. Many graduates of the LMU Executive MBA Program advance to C-level positions within their companies. Saturday-only classes, small class sizes, a collaborative learning environment, personalized attention, an active alumni network, a focus on ethics and leadership, and an international study component set LMU apart from other programs. Our unique OnBoarding Program helps students prepare for a return to academia so they will be ready to start classes with confidence. The Executive MBA program includes an initial Executive Leadership Retreat, a one-week domestic trip to Sacramento and Silicon Valley to study innovation and entrepreneurship, and a two-week journey overseas to one or more major business centers to meet with business executives and gather findings for final research projects.
NAME OF INSTITUTION
Loyola Marymount University
NAME OF BUSINESS SCHOOL OR PROGRAM
College of Business Administration
BUSINESS SCHOOL DEAN
Dayle M. Smith, Ph.D.
YEAR INSTITUTION WAS FOUNDED
1911
YEAR BUSINESS SCHOOL OR PROGRAM WAS STARTED
College of Business Administration: 1926
MBA: 1974
Executive MBA: 2000
TOTAL MBA ENROLLMENT(ALL PLATFORMS OFFERED)
103
MBA PLATFORMS OFFERED
MBA
Executive MBA
JD/MBA
MS/MBA
MBA AREAS OF EMPHASIS OFFERED
Entrepreneurship
Finance
Marketing
LENGTH OF PROGRAMS
MBA: 21-36 months
Executive MBA: 20 months
PROGRAM CAMPUS OPTIONS
All programs take place on the LMU campus
located near Playa Vista and Silicon Beach
PROGRAM ACCREDITATIONS
AACSB, WASC
RANKINGS
U.S. News & World Report graduate-level Rankings:
• Entrepreneurship: #11
• Marketing: #14
• Accounting: #20
• Executive MBA: #26
CEO Magazine Global MBA rankings:
• MBA: Tier One
• Executive MBA: Tier One and #25
TOTAL COST OF MBA
MBA: $85,000
Executive MBA: $98,500
REQUIRED TESTING
MBA: GMAT or GRE required
Executive MBA: GMAT not required for applicants who are able to demonstrate – either through past academic performance or work experience – sufficient strength in the areas of quantitative and analytical reasoning
UPCOMING INFORMATION SESSIONS
MBA: Wednesday, May 22; Wednesday, June 5. For additional dates, visit: mba.lmu.edu/infosessions
Executive MBA: Saturday, May 18; Saturday, June 8; Wednesday, June 19. For additional dates, visit: emba.lmu.edu/infosessions
APPLICATION DEADLINES
MBA: July 12, 2019
Executive MBA: July 12, 2019
PROGRAM CONTACT INFORMATION
MBA:
Bill Semos, Interim Director,
wsemos@lmu.edu, 310.338.2848,
mba.lmu.edu
Executive MBA:
Joe O'Hannigan, Associate Dean
and Director, johannig@lmu.edu,
877.568.8585, emba.lmu.edu
For reprint and licensing requests for this article, CLICK HERE.