MBA Guide: Claremont Graduate University - Peter F. Drucker and Masatoshi Ito Graduate School of Management
Custom Content by the Los Angeles Business Journal
Friday, May 10, 2019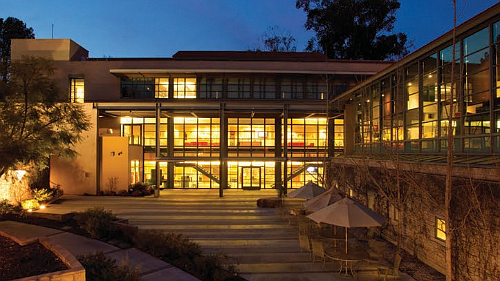 The Peter F. Drucker and Masatoshi Ito Graduate School of Management prepares leaders with powerful, ethical, and universal management skills. We offer customizable programs grounded in the guiding principles of Peter Drucker, the father of modern management. Our global network is composed of bold individuals who are leading organizations, impacting society, and making positive changes worldwide.
The school embraces Peter Drucker's philosophy that the practice of management requires a holistic perspective, blending analytical skills with a firm grasp of the human dimension of business. Drucker had a gift for distilling complex insights into practical wisdom: respect your workers, respond to customers' needs, take a global perspective, innovate, streamline. He knew that the principles of effective management apply equally whether you're running a small business or a country.
At the Drucker School, we understand that you are looking for a degree that will support your own professional journey, whether it takes you up the corporate ladder or to new destinations. You will learn in small classes taught by professors with extensive professional experience and award-winning academic credentials. Your management style will evolve through a targeted, market-connected curriculum that encourages you to participate in client-centered projects and internships. We routinely host industry events and bring experts into the classroom to ensure that the theory we teach is directly linked to the latest industry trends.
The degrees are in management, but what we develop is leadership.
THE EXECUTIVE MBA
With an emphasis on leadership and strategy, Drucker's highly flexible Executive MBA (EMBA) program offers mid- to senior-level managers and entrepreneurs an ideal learning environment to broaden their career options and learn to "see the future as it happens." We aspire to create change agents and visionary leaders ready to lead their organizations to the future.
Our Executive MBA program offers unparalleled flexibility. Our non-cohort program allows you to start at six different times each year and move at your own pace. With new hybrid courses options, you can fit the courses around your personal commitments.
With a dynamic, experiential curriculum, you'll receive valuable executive coaching from faculty experts and draw on real-life case studies to improve your strategic decision making, allowing you to immediately apply the ideas you learn in class to your work.
You can also earn executive certificates in general management, leadership, and strategy at no extra cost as part of your degree.
THE DRUCKER MBA (FULL-TIME OR PART-TIME)
Our AACSB-accredited MBA prepares you for success by combining Peter Drucker's classic philosophy on business with practice-based learning that puts those principles into action. The program's unique organization around four main modules—the innovative Drucker Signature Platform, People & Strategy, Analysis & Decision-Making, and a concentration of your choice—means you will earn an MBA that sets you apart from the crowd.
The Drucker Signature Platform consists of courses that prepare you for a successful career:
• Drucker Philosophy focuses on the key principles of Peter F. Drucker, from leading self, organizations, and businesses to the broader functioning of society itself.
• Leadership Practicum presents leadership as a skill to be practiced through field work and reflective assignments.
• Career Practicum empowers you with fundamentals of career resilience and key skills such as informational interviews.
• Finding Clarity combines career case studies with mindfulness theories to teach you how to be productive and happy in your career.
The Drucker MBA allows you to specialize your studies with a concentration in areas such as Entrepreneurship, Finance, Marketing or Supply Chain.
NAME OF INSTITUTION
Claremont Graduate University
NAME OF BUSINESS SCHOOL OR PROGRAM
Peter F. Drucker and Masatoshi Ito Graduate School of Management
BUSINESS SCHOOL DEAN
Jenny Darroch, Dean
YEAR INSTITUTION WAS FOUNDED
1925
YEAR BUSINESS SCHOOL OR PROGRAM WAS STARTED
1971
TOTAL MBA ENROLLMENT (ALL PLATFORMS OFFERED)
100
MBA PLATFORMS OFFERED
Full Time
Part Time (evening, weekend)
Executive (evening, weekend, hybrid)
MBA AREAS OF EMPHASIS OFFERED
Entrepreneurship, Family Business, Finance, HR Management, IT Management, Leadership, Marketing, Strategy, Supply Chain
LENGTH OF PROGRAMS
Full Time – 21 months
Part Time – 21-33 months
Executive – 21-33 months
PROGRAM CAMPUS OPTIONS
Claremont (main campus)
Online (hybrid)
PROGRAM ACCREDITATIONS
AACSB
WASC
RANKINGS
Eduniversal: 37th best executive EMBA and 40th best full-time MBA Ivy Exec: 14th best EMBA in the West TFE Times: 65th in the Best MBA
TOTAL COST OF MBA
MBA (full-time & part-time): $1,980/unit (average $23,760 at 12 units/semester)
Executive MBA: $2,230/unit (average $17,840 at 8 units/semester, includes books & meals)
Fellowship available for qualified students
REQUIRED TESTING
MBA (full-time & part-time): GMAT or GRE
Executive MBA: None
UPCOMING INFORMATION SESSIONS
Information Sessions on Campus on:May 18th & 21st
June 8th
APPLICATION DEADLINES
Summer 2019 (part-time & executive only) Final Deadline: July 1
Fall 2019 (all programs) Round 4: June 1
Final Deadline: August 15
PROGRAM CONTACT INFORMATION
Nick Lopez,
Assistant Director of Admissions
druckermba.com
(909) 607-7151
For reprint and licensing requests for this article, CLICK HERE.