Greater Good
Special Report: HEALTH CARE
Friday, May 10, 2019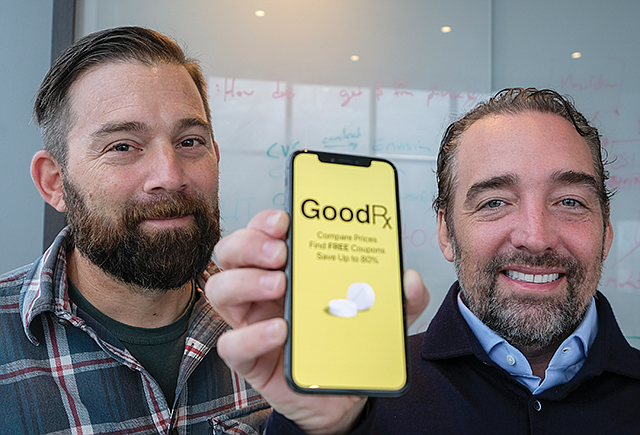 Marlette was an early employee at Facebook who developed Facebook Photos and other features. He is currently a partner at Santa Monica based VC firm Slow Ventures. According to the Wall Street Journal, Marlette announced in April that he was stepping down from Slow Ventures.
The idea for a prescription drug price-comparison platform came when Hirsch, who then had a high-deductible health insurance plan, went to fill a drug prescription.
He was shocked to find the pharmacy wanted $450. So, he headed to another pharmacy two doors down, which wanted $350. While on vacation, he stopped in at another drug store that asked $425 for the same medicine but offered a discount when Hirsch tried to leave.
He also looked online but couldn't find reliable prescription prices. Neither could Bezdek, despite laws in a dozen states that required they be posted publicly.
"This is a category where people spent $400 billion a year on prescriptions, and you go online and search for (the drug) Lipitor and found basically nothing."
The trio looked closer at the market and realized there was significant room for innovation.
"What we quickly realized was the meatiest problem was health care, and prescriptions in particular," said Bezdek. "We wanted to have an impact."
Another LA unicorn?
As of March, GoodRx estimates it has saved Americans $10 billion on prescription drug costs, with individual customers saving an average $276 per year. The company also claims that more than 260,000 doctors have recommended GoodRx to their patients.
The company's business has blossomed as a result, and it now serves more than 10 million customers a month. Nearly 3 out of 4 individuals who use GoodRx have health insurance. The company estimates its prescription service comprises between 2% and 3% of all the drug prescriptions filled in the United States.
The company employs 160 people — 150 in Santa Monica and 10 in San Francisco.
In addition to August's Silver Lake buy-in — reportedly for a third of the company — GoodRx has taken money from Francisco Partners and Spectrum Equity, both based in San Francisco, who purchased stakes in 2015. Terms of that funding round were not disclosed.
"The founders have been very secretive about how much money they've raised, since they started," said Ahmed Enany, chief executive of the Southern California Biomedical Council. "The Silver Lake investment confirms we have a unicorn in our backyard."
For reprint and licensing requests for this article, CLICK HERE.
Prev Next