Greater Good
Special Report: HEALTH CARE
Friday, May 10, 2019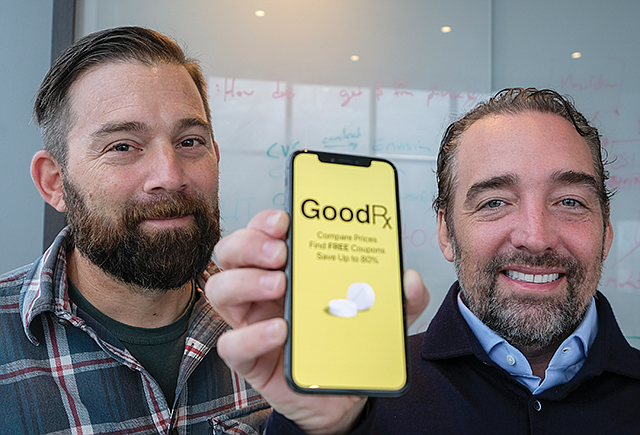 Santa Monica-based GoodRx Inc. was in talks last year to be acquired for as much as $3 billion.
But the founders of the health tech startup that helps consumers find cheap prescription drugs held off, choosing instead to take an outside minority investment from Silver Lake Partners that valued the company at $2.8 billion, according to a CNBC report.
"We've looked at available options," said Doug Hirsch, co-founder and co-chief executive of GoodRx while seated next to fellow co-founder and Co-Chief Executive Trevor Bezdek at the firm's offices. "But at this point, we love what we do. We have so much more road to travel."
GoodRx was launched eight years ago out of Silicon Valley with the aim of helping consumers compare the cost of prescription drugs available at local pharmacies.
The company's user interface — which can be accessed via a web browser or a smartphone app — shows drug price comparisons and offers coupons to local pharmacies. The GoodRx software relies on close communication with doctors, drug stores and health insurers to input prices and discounts for every federally approved prescription at more than 70,000 pharmacies across the nation.
GoodRx makes money from referral fees from pharmacies when users redeem their coupons for prescriptions. GoodRx negotiates the discounts with pharmacy chains and pharmacy benefits managers.
The company also generates revenue from website advertising, a paid subscription service that provides more drug discounts for users, and by managing pharmacy membership programs for large companies such as Kroger Co.
Executives at privately owned GoodRx declined to disclose the company's financial performance or to confirm a CNBC report last summer that GoodRx was on track to earn $100 million in 2018.
"From day one, we've tried to get consumers the (drug) price that they can afford," Hirsch said. "And if we can make money that doesn't compromise the consumer along the way, by all means."
Personal experience
GoodRx was founded in 2011 by Hirsch, Bezdek and Scott Marlette, all of whom had tech startup chops.
Hirsch, who is from New York, worked in the music industry in Los Angeles before he joined Yahoo Inc. as one of its first 30 employees. He joined Facebook Inc. in 2005 as vice president of product and later founded DailyStrength Inc., an online support community that was acquired in 2008 by HSW International Inc. for an undisclosed sum.
Bezdek, a Santa Monica native and Stanford University graduate with degrees in biology and computer science, founded Tryarc, an information technology consulting firm based in Los Angeles, and Biowire, a community for biologists and scientists, before helping to launch GoodRx
Marlette was an early employee at Facebook who developed Facebook Photos and other features. He is currently a partner at Santa Monica based VC firm Slow Ventures. According to the Wall Street Journal, Marlette announced in April that he was stepping down from Slow Ventures.
The idea for a prescription drug price-comparison platform came when Hirsch, who then had a high-deductible health insurance plan, went to fill a drug prescription.
He was shocked to find the pharmacy wanted $450. So, he headed to another pharmacy two doors down, which wanted $350. While on vacation, he stopped in at another drug store that asked $425 for the same medicine but offered a discount when Hirsch tried to leave.
He also looked online but couldn't find reliable prescription prices. Neither could Bezdek, despite laws in a dozen states that required they be posted publicly.
"This is a category where people spent $400 billion a year on prescriptions, and you go online and search for (the drug) Lipitor and found basically nothing."
The trio looked closer at the market and realized there was significant room for innovation.
"What we quickly realized was the meatiest problem was health care, and prescriptions in particular," said Bezdek. "We wanted to have an impact."
Another LA unicorn?
As of March, GoodRx estimates it has saved Americans $10 billion on prescription drug costs, with individual customers saving an average $276 per year. The company also claims that more than 260,000 doctors have recommended GoodRx to their patients.
The company's business has blossomed as a result, and it now serves more than 10 million customers a month. Nearly 3 out of 4 individuals who use GoodRx have health insurance. The company estimates its prescription service comprises between 2% and 3% of all the drug prescriptions filled in the United States.
The company employs 160 people — 150 in Santa Monica and 10 in San Francisco.
In addition to August's Silver Lake buy-in — reportedly for a third of the company — GoodRx has taken money from Francisco Partners and Spectrum Equity, both based in San Francisco, who purchased stakes in 2015. Terms of that funding round were not disclosed.
"The founders have been very secretive about how much money they've raised, since they started," said Ahmed Enany, chief executive of the Southern California Biomedical Council. "The Silver Lake investment confirms we have a unicorn in our backyard."
For reprint and licensing requests for this article, CLICK HERE.