Greater Good
Special Report: HEALTH CARE
Friday, May 10, 2019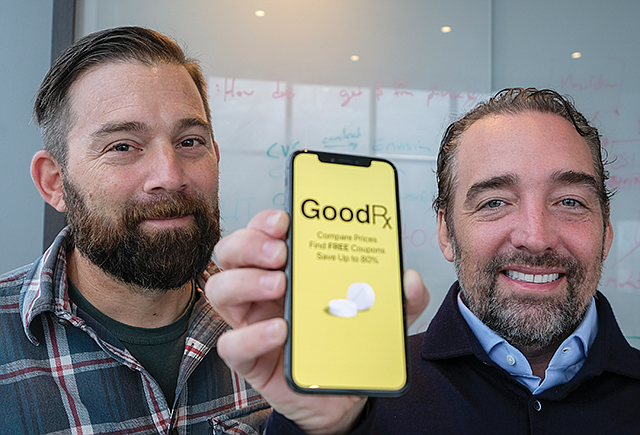 Santa Monica-based GoodRx Inc. was in talks last year to be acquired for as much as $3 billion.
But the founders of the health tech startup that helps consumers find cheap prescription drugs held off, choosing instead to take an outside minority investment from Silver Lake Partners that valued the company at $2.8 billion, according to a CNBC report.
"We've looked at available options," said Doug Hirsch, co-founder and co-chief executive of GoodRx while seated next to fellow co-founder and Co-Chief Executive Trevor Bezdek at the firm's offices. "But at this point, we love what we do. We have so much more road to travel."
GoodRx was launched eight years ago out of Silicon Valley with the aim of helping consumers compare the cost of prescription drugs available at local pharmacies.
The company's user interface — which can be accessed via a web browser or a smartphone app — shows drug price comparisons and offers coupons to local pharmacies. The GoodRx software relies on close communication with doctors, drug stores and health insurers to input prices and discounts for every federally approved prescription at more than 70,000 pharmacies across the nation.
GoodRx makes money from referral fees from pharmacies when users redeem their coupons for prescriptions. GoodRx negotiates the discounts with pharmacy chains and pharmacy benefits managers.
The company also generates revenue from website advertising, a paid subscription service that provides more drug discounts for users, and by managing pharmacy membership programs for large companies such as Kroger Co.
Executives at privately owned GoodRx declined to disclose the company's financial performance or to confirm a CNBC report last summer that GoodRx was on track to earn $100 million in 2018.
"From day one, we've tried to get consumers the (drug) price that they can afford," Hirsch said. "And if we can make money that doesn't compromise the consumer along the way, by all means."
Personal experience
GoodRx was founded in 2011 by Hirsch, Bezdek and Scott Marlette, all of whom had tech startup chops.
Hirsch, who is from New York, worked in the music industry in Los Angeles before he joined Yahoo Inc. as one of its first 30 employees. He joined Facebook Inc. in 2005 as vice president of product and later founded DailyStrength Inc., an online support community that was acquired in 2008 by HSW International Inc. for an undisclosed sum.
Bezdek, a Santa Monica native and Stanford University graduate with degrees in biology and computer science, founded Tryarc, an information technology consulting firm based in Los Angeles, and Biowire, a community for biologists and scientists, before helping to launch GoodRx
Prev Next
For reprint and licensing requests for this article, CLICK HERE.