Survey Results Reveal Small Business Confidence is Up
Custom Content by the Los Angeles Business Journal
Monday, May 6, 2019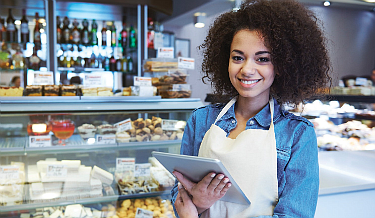 CNBC and SurveyMonkey recently announced the results of their quarterly CNBC/SurveyMonkey Small Business Survey.
Each quarter, CNBC and SurveyMonkey poll over 2,000 small business owners aiming to measure the vitality of the American economy as well as the view from Main Street on jobs, taxes and other hot topics. In addition to measuring small business confidence nationwide, the large sample size gives CNBC the power to uncover trends by geographic region and among specific small business cohorts.
Key findings from the Q1 2019 CNBC/SurveyMonkey Small Business Survey include:
• 53% of small business owners think a recession in 2019 is "very" or "somewhat likely." Female small business owners are more likely than their male counterparts to think a recession is on the way. 61% of women say a recession is likely, vs. 49% of men. Recession fears also break down along party lines. Just 38% of Republican small business owners say a recession is likely, vs. 79% of Democrats and 59% of independents.
• Overall small business owner confidence has remained more positive than negative. 52% of respondents say current business conditions are "good," compared to 55% in Q4 2018, but still up from 47% in Q1 2018. This factor is just one component of the small business confidence index score, which decreased slightly from 59 to 58 this quarter.
• 20% of small business owners say a government shutdown is a "major concern" for their business. 29% say it is a "minor concern." Exactly half (50%) say it is "not a concern."
• 37% of respondents say they were impacted by the recent government shutdown. 35% of those impacted say they saw a slowdown in sales. About one in eight (13%) say they lost revenue from a contract with a government agency and only 10% say they lost access to SBA loans.
"Though more than one in three small business owners were affected by the recent, record-long government shutdown, its impact barely registers in our overall measure of small business confidence," said Jon Cohen, chief research officer at SurveyMonkey. "Key indicators of revenue growth, hiring expectations, and job openings reflect stability rather than volatility at the start of 2019. Still, concern about another shutdown looms: two in 10 say the threat presents a significant worry for their businesses."
SurveyMonkey created a unique Small Business Confidence Index (SBCI), which is a 100 point score based on responses to eight key questions. The index is calculated on a scale from 0–100 and is based on the responses to eight key questions. A zero indicates no confidence, and a score of 100 indicates perfect confidence. The first quarter of 2019's SBCI has fallen from an overall value of 59 to 58, indicating that small business owners are still more optimistic than pessimistic about the direction their business will go in the next 12 months. The Q1 2019 SBCI is four points lower than the SBCI's all-time high, which was recorded in both Q1 and Q3 2018. CNBC and SurveyMonkey first began tracking this quarterly index in Q2 2017.
The CNBC/SurveyMonkey Small Business Survey was conducted using SurveyMonkey's online platform among a national sample of 2,209 self-identified small business owners ages 18 and up. Respondents for this survey were selected from more than two million people who take surveys on the SurveyMonkey platform each day.
For reprint and licensing requests for this article, CLICK HERE.