Greater Diversity is Simply Better Business
Monday, May 6, 2019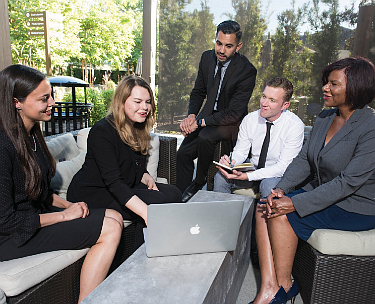 Diversity isn't just socially responsible; it's financially beneficial. More and more expert studies confirm what many business leaders intuitively understand – doing good leads to doing well.
For example, a McKinsey & Company study of over 1000 companies in 12 countries revealed that the firms in the top quartile for gender and ethnic/cultural diversity on executive teams were 21% and 33% respectively more likely to outperform the national median EBIT for their industries. In the US, companies gained a 0.8% increase in EBIT for every 10% increase in racial and ethnic diversity (Delivering through Diversity, McKinsey & Company, 2018).

Also, Boston Consulting Group experts examined 1700 companies in 8 countries and found that companies with above average diversity in their leadership teams reported 45% average innovation revenue, which was 19% higher than the 26% average innovation revenue for companies with below-average leadership diversity. This means that companies with more diverse leadership generated nearly half of their revenue from products and services launched in the past three years, plus these firms had EBIT margins that were 9% higher than those with below-average diversity (Boston Consulting Group Diversity and Innovation Survey, 2017).
In a look at internal company dynamics, a Cloverpop study of 600 business decisions made by 200 different business teams in a variety of companies over two years, showed that greater team diversity was correlated with superior team performance. Although all male teams outperformed individuals 58% of the time, gender diverse teams out-performed individuals 73% of the time, and gender, age, and geographically diverse teams outperformed individuals 87% of the time (Cloverpop.com).
These studies, and others like them, help quantify the bottom-line benefits of diversity, and provide concrete evidence that diversity yields a compelling competitive advantage. Three key sources contribute to this competitive advantage, or "diversity dividend:"
Expanded Talent Pool – Diverse companies are better positioned to win the war for talent since they can appeal to talented and skilled individuals from all types of backgrounds and all walks of life.
Wider Customer Base – Diverse companies are better equipped to recognize, understand, and satisfy a wider range of customer problems, wants and needs.
More Innovative Solutions – Individuals and teams with different experiences, backgrounds and perspective are more likely to view the same problem or situation in different ways and to offer different and novel solutions.
These three sources are most effective when combined together in an inclusive workplace, in which all employees, managers, and contract workers are treated with dignity and respect. An inclusive company culture, buttressed by strong policies, frees participants to brainstorm, debate and collaborate, and helps the firm capture the greatest gains from the diversity of its members.
As a result, companies which couple inclusiveness with diversity gain the foundation for greater revenues, profits and growth, plus the exceptional resilience and adaptability required to continue top performance in the midst of disruptions and uncertainty. In complex systems such as business organizations, diversity contributes to superior long-term performance and success in two key ways: 1) by expanding the variety of responses to change, and 2) by expanding the capacity to learn and evolve (Diversity at Work, Boston Consulting Group, 2017). A company equipped with these two capabilities can resiliently withstand a greater array of challenges and can more adaptively devise winning actions and reactions.
Looking farther than company boundaries is crucial to maximizing the gains from diversity. Savvy executives view their firm as the center of a dynamic system, much like the nexus of an entrepreneurial network, which includes customers, suppliers and other key partners, and which can extend over national borders. In this network systems view, company leaders examine opportunities to leverage the benefits of diversity not only internally within the firm, but externally across customers, suppliers and other essential stakeholders. For example, contracting with women-owned and minority-owned suppliers not only increases the flexibility of corporate supply chains, but also can provide greater insights to the customer needs of rapidly growing populations and easier access to previously untapped pools of talent. Likewise, exciting new approaches to production or product development can be tapped from international partners to address challenges in the local market, and then diffused throughout the firm to become company-wide best practices.
Both large and small Los Angeles companies have numerous opportunities to leverage the competitive advantage of diversity, given the wonderfully vast assortment of people, perspectives, and partners in the larger metropolitan area and beyond. As a leader in educating diverse populations, the Nazarian College of Business and Economics at CSUN is superbly equipped to assist businesses in capitalizing on those opportunities.
The Nazarian College ranks among the top 5% of business schools globally by virtue of its AASCB accreditation and is recognized as one of the Best US Business Schools by the Princeton Review. With over 8,000 majors and 400 minors, the College offers one of the 10 largest undergraduate business programs in the nation as well as graduate business programs lauded by US News & World Report, CEO Magazine, the Accounting Degree Review, as well as other esteemed agencies. As part of CSUN, which is a certified Hispanic, Asian American, Native American and Pacific Islander serving university, the Nazarian College student body boasts ethnicities, races, and nations from around the world as well as members of all socio-economic strata.
Distinguished faculty skillfully combine active, team-based learning with small class sizes, engagement with practitioners, and hands-on experiences through consulting projects, internships, competitions, international excursions, and incubator/accelerator programs. This pragmatic yet rigorous approach builds on student diversity and produces dividends in the capacity of Nazarian graduates to be more productive for the companies that hire them.
Embracing diversity transforms the good business of offering high quality products and services into the better business of achieving superior financial returns and enhanced company reputation. The Nazarian College, and its students, faculty, staff, and alumni stand ready to partner with Los Angeles businesses in escalating this transformation and maximizing the competitive advantage of diversity.
Lois Shelton, PhD. is a professor with the David Nazarian School of Business and Economics at CSUN. To learn more about the David Nazarian College of Business and Economics, please visit csun.edu/nazarian.
For reprint and licensing requests for this article, CLICK HERE.