Plastic Rules Could Upend Food Service, Retail
Special Report: Environmental Business
Friday, March 29, 2019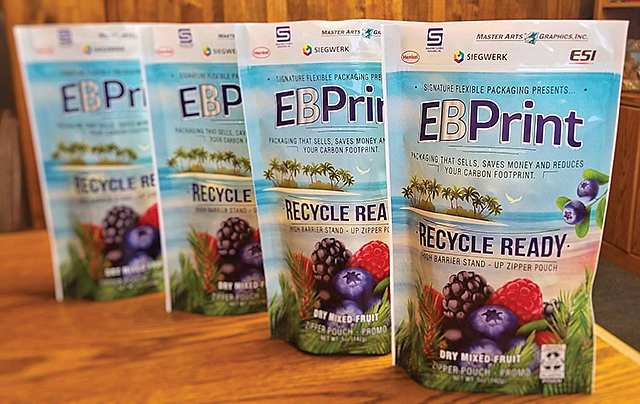 Environmental preservation is serious business in California, and the state's push to reduce waste is forcing companies — especially those in the food-service and retail space — to change their longstanding relationship with disposable plastic products.
But switching to recyclable plastic or compostable packaging can be both costly and complicated.
Monrovia-based grocery chain Trader Joe's Co., which operates more than 400 stores nationwide, announced in December it was looking to reduce its plastic packaging. The transition won't be easy, company spokeswoman Kenya Friend-Daniel said in an email.
"Identifying sustainable alternatives for recycling and composting is complex work, as realistic options are limited and still being innovated," Friend-Daniel said in the statement. "There are differing understandings of what is the 'best choice' for sustainability."
Still, she said, the company is determined to figure out a solution because "it's the right thing to do." Already, many Trader Joe's locations have replaced thin plastic produce bags with a compostable version.
Analysts and packaging manufacturers said the shift, driven by environmental interests in a few states such as California, could upend the packaging and retail businesses across all 50 states in the coming decade.
"In the next 10 years, the demand will be massive, but the stopwatch hasn't started yet," said Jeff Sewell, vice president of sales and marketing for the 56-year-old Commerce-based Signature Flexible Packaging Inc.
The company, which counts itself among the largest privately held retail packaging firms in Southern California, makes packaging for California and Hawaiian Sugar Co., American Licorice Co. and other chips and snack companies.
Most of its products are made with a mix of plastics, meaning they're almost impossible for recycling processors to break down for reuse. But as more companies and jurisdictions change the rules, Signature Flexible Packaging has begun designing new recyclable products that use a single type of plastic.
"We won't have such commercialization in the next year, but as the infrastructure for recycling develops, the demand will be beyond tremendous," Sewell said. His customers have already started asking about it, he added.
The move will mean big changes for the packaging industry as it adopts new material and production methods. Sustainable materials can be more costly and force producers to change the manufacturing process.
Expanding focus
Plastic bags have long been a flashpoint for environmentalists, and they were joined recently by plastic straws. The latest battleground, however, features Styrofoam to-go containers and other nonrecyclable packaging.
While there's no formal statewide law in effect yet, there is a legislative effort afoot in Sacramento to ban nonrecyclable packaging, a move Hawaii made earlier this year for eateries. Several California cities, including Santa Monica, have also adopted similar restrictions.
In addition, several large public companies, including McDonald's Corp., have pledged to shift their packaging to 100 percent renewable, recycled or certified sources by 2025.
"Companies feel that their social license to use plastic packaging is under real threat," said Adam Gendell, who works with Walmart Inc., Procter & Gamble Co. and other large retail and food businesses in his role as associate director of Charlottesville, Va.-based nonprofit GreenBlue's sustainable packaging coalition.
About 300 companies, including heavyweights Amazon.com Inc. and Nestle SA as well as smaller local recycling operators like Vernon-based rPlanet Earth, have signed onto the coalition, GreenBlue said.
Within a few years, food and retail operators in California may no longer have a say in the matter.
By 2021, nonrecyclable food containers will be banned from all state-run food-service operations — from hospitals to prisons — under a new law signed by former Gov. Jerry Brown last year.
State Sen. Ben Allen, D-Santa Monica, who carried that legislation, introduced a further-reaching bill this year to extend the rules to all single-use packages and products in the state by 2030. If passed, the law could have major impacts on processed food companies, creating widespread demand for sustainable materials.
"The more we nudge the entire industry, the more of the market that will be, and the more costs will go down," Allen said.
The bill is sponsored by the nonprofit group Californians Against Waste. According to the group, more than 100 local jurisdictions in California already have regulations on Styrofoam and other nonrecyclable packaging at fast-food restaurants. One of the most ambitious bans is in Berkeley where the city is slated to require all disposable food packaging at restaurants be compostable by 2020.
The California Grocers Association, which represents 300 markets and food suppliers, hasn't signed on to Allen's effort yet, but a representative said the association is working with him to tweak the bill.
"We would prefer a uniform state law as opposed to a patchwork of rules that's being created with food packaging," said the grocers association's Aaron Moreno. "We would like it to recognize food packaging is different than other consumer goods packaging for food safety and shelf life."
For reprint and licensing requests for this article, CLICK HERE.