Broker Bonding
Hot listings drive agents to share residential sale credit
Friday, March 29, 2019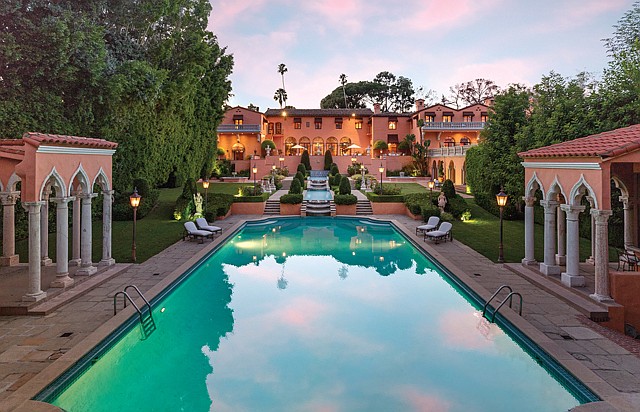 In L.A.'s cutthroat competitive residential real estate market, agents are taking a bewildering approach: sharing the listings on some of their highest-end properties with agents from competing brokerages.
While the practice isn't new, agents say it's becoming more popular. Between 2013 and 2018, the number of co-listings in L.A. County rose by 50 percent to 1,885, according to data from Redfin Corp. The data does not account for off-market listings.
Brokers say co-listings only make sense on higher-priced properties where the commissions are steep — even when split 50-50.
"Fifty percent of the deal is better than zero," said Aaron Kirman, an agent with Compass.
Kirman is co-listing with three other agents the famed "Godfather" house in Beverly Hills, a property that was once owned by William Randolph Hearst. The property is listed for $135 million.
Kirman is sharing the listing with Hilton & Hyland's Drew Fenton, Coldwell Banker Residential Brokerage's Jade Mills and Westside Estate Agency's Kurt Rappaport.
Co-listing causes
Agents share listings for various reasons.
In some cases, agents entering an unfamiliar neighborhood will partner with a local agent with expertise in the market.
Tami Pardee, of Halton Pardee & Partners Inc., said she was brought in on one of Kirman's listings in Venice because she knows the area well. "I'm really a Venice specialist, and he does a lot along the ocean," she said.
You'd think Kirman and Pardee would be fierce competitors. Pardee was No. 3 on the Business Journal's list of top residential real estate agents, bringing in $482 million in sales volume in 2018. Kirman was No. 8 on the list with $323 million in sales.
But much of those sales figures were only a portion of the commission earned on each sale. Roughly 30 of Kirmt an's 70 listings right now are co-listed with non-Compass brokers, and Pardee has co-listed properties with a number of other brokers in Los Angeles as well.
Sometimes it's just what the customer wants, Pardee said. "I don't need somebody else to help me. But sometimes a seller will be deciding between two, and instead of deciding, will go with both."
When agents decamp from one brokerage to another, they occasionally share clients with their former colleagues. In some cases, the property owners don't want to give up one agent in favor of the other. In other cases, the agent doesn't want to let go.
Kirman said he asks prospective clients who else they're interviewing, and he'll offer to co-list with anyone he's worked well with before.
Competitive conflict
But not all agents are ready to collaborate with their competitors.
"I hate it," Westside Estate Agency's Stephen Shapiro said. "I think it's crazy for a seller to think they can get two brokers for half the price."
Shapiro, who was No. 16 in the Business Journal's list of top agents with $198 million in sales, said he's wary of being taken advantage of. "The seller thinks that two different companies should use all the resources they would use individually and work for half-price," he said.
Still, Shapiro has co-listed a property at 11951 Crest Place with Coldwell Banker's Mills, who was No. 6 on the Business Journal's list with $343 million in sales.
Shapiro still does most of the work he would do for a property he had a solo listing for but divides showings.
Mills said around 20 percent of her listings right now are co-listings. But if there is an agent who's difficult to work with, Mills said she won't take the listing. "When you work with the same brokers, you kind of know who is going to be doing what," she said.
Mills said she's pretty sure co-listing doesn't make a home sell any faster but it can offer sellers peace of mind.
Work split
For many, co-listing is a good way to share the workload, and some of the costs of marketing and advertising.
"The listings are getting higher in price point, and that flows with wanting a team versus one person," The Agency's Stacy Gottula said.
Gottula does co-listings with Coldwell Banker's Joyce Rey, who was No. 23 on the Business Journal's list of top agents with $162 million in sales. The two were former partners at Coldwell Banker, and they still share some of the same clients.
"You really have to make sure that the two agents that you've hired together work well together," she said.
Pardee said she might do more online marketing while someone else focuses on print; then she and her co-listing agent come up with a plan for splitting open-house responsibilities.
And agents say co-listings show no signs of slowing down now that agents are getting joint referral business.
"One co-listing can turn into three or four," Kirman said.
For reprint and licensing requests for this article, CLICK HERE.