Meetings & Events Guide (March 25): L.A. Grand Hotel Downtown: A Serene Retreat
Custom Content by the Los Angeles Business Journal
Wednesday, March 27, 2019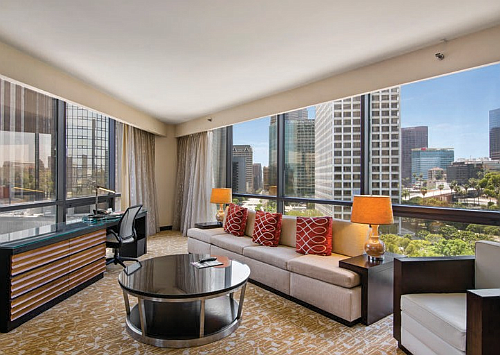 When you stay at the L.A. Grand Hotel Downtown, you will find that while you are at the heart of the cultural, financial, and entertainment hub of Los Angeles Downtown, the hotel offers you a serene retreat from the hustle and bustle of the city, transforming into your home away from home.
The L.A. Grand Hotel Downtown was designed with the everyday traveler in mind. Whether you are traveling for business, visiting friends, or enjoying a family vacation, the hotel offers a variety of spacious suite options to satisfy all tastes and accommodate your needs.
Check in with the front desk, take a breath and sit at one of the many sofas throughout the lobby, enjoy a cocktail at BAR9 or a full dinner meal at Ziran restaurant, or simply visit the gift shop for a city souvenir.
Come and host your event and entertain your guests at the L.A. Grand Hotel Downtown with 25,000 square feet of recently renovated meeting space to choose from – all located on the second floor of the hotel.
The layout of the hotel's rooms allows for different events to take place simultaneously, so whether you would like to reserve a small corporate gathering, or social reception with many guests, the L.A. Grand is able to accommodate your party with privacy and luxury. To top it off, you'll enjoy the local touch and legendary service of our staff.
Learn more at thelahotel.com.
For reprint and licensing requests for this article, CLICK HERE.