Who's Building L.A. (March 25): Shared Success Since 1919
Custom Content by the Los Angeles Business Journal
Tuesday, March 26, 2019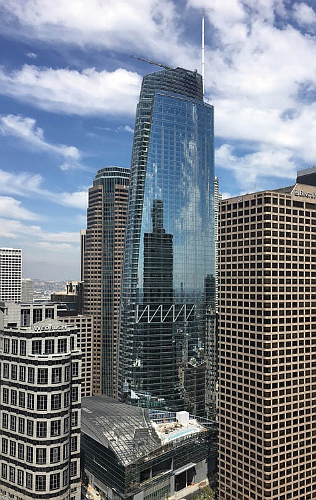 For 100 years, Rosendin has created a reputation for building quality electrical and communications installations, building value for clients, and building people.
A VISIBLE PRESENCE
Whether you are viewing the San Francisco, Las Vegas, or Los Angeles skylines, you likely see Rosendin's craftsmanship. Throughout its storied history, Rosendin has helped construct some of the landmark buildings in many cities, most notably in downtown Los Angeles with the recently completed Wilshire Grand Tower and Metropolis projects. in 2018, Rosendin's Los Angeles office, established in 2006, moved to a new location in Anaheim to better serve clients in the Los Angeles Metropolitan Area. The LEED Silver office totals over 147,000 SF and is reducing Rosendin's carbon footprint by operating on 100% solar energy with state-of-the-art lighting and lighting controls.
Rosendin has worked on some of the largest and most complex projects in the Los Angeles Metropolitan area including stadiums, hotels, high-rise & mixed-use commercial, data centers, and transportation projects. The Anaheim office is also home to Rosendin's Renewable Energy Group who is the leading EPC builder of mid to large scale solar photovoltaic systems throughout North America, Puerto Rico, and Guam. Rosendin has installed more than 12,000 MW of wind energy throughout the United States. The Renewable Energy Group has also won several awards from Solar Power World, ranking as the 2018 #4 Top Solar EPC, #5 Top California Solar Contractors, #6 Top Solar Contractors and the #6 Top Utility Solar Contractors.
Recognized as one of the top specialty contractors in the United States, Rosendin closed out 2018 with the receipt of awards for both safety and project excellence. The Associate General Contractors (AGC) of America recognized Rosendin's commitment to safety by honoring them with the 2018 Construction Safety Excellence Award. The National Electrical Contractors Association (NECA) presented the firm with a 2018 NECA Project Excellence Award for its work on the Wilshire Grand Tower project. Over four and a half years, from the start of pre-construction through building completion, Rosendin performed all electrical engineering design requiring more than 340,000 labor hours on the project.
Rosendin's role in the growth and development of Los Angeles continues with the construction of high-profile projects including the Los Angeles Stadium at Hollywood Park, LAX Southwest Terminal, LAX People Mover, the renovation of the landmark Century Plaza Hotel, and the renovation of the historic LA Memorial Coliseum.
The $300 million LA Memorial Coliseum project is scheduled for completion at the end of 2019 and will restore the 96-year-old stadium to its former glory, as well as modernize the facility. The historic stadium opened in 1923 and is home to the USC Trojans and has served as a host venue for the 1932 and 1984 Summer Olympics; it will once again host the Summer Olympics in the upcoming 2028 games. The renovation will provide seats for 77,500 including luxury boxes and club suites. To date, the project has logged more than 200,000 labor hours with 30% of the work performed by local craft workers.
UNWAVERING FOCUS ON SAFETY
Safety in the workplace is something that cannot be compromised, and Rosendin's implemented policies and training have helped diminish job site hazards and involve employees and subcontract employees in every aspect of safety. This commitment to safety begins with one simple statement, "Our people are our most valuable asset and should not be exposed to injury or illness as a result of their employment."
Rosendin strongly believes that employees are treated with respect. The company goes to great lengths to listen to their suggestions, comments, and concerns. It is employees who make the Safety and Health Program at Rosendin a success, and that success is evident in the firm's numbers. Rosendin worked 10,930,531 man-hours in 2018 with a total recordable incident rate of 0.68, much lower than the Bureau of Labor Statistic's 2017 average private industry rate of 2.8. In addition to the 2018 Grand Award for Construction Safety Excellence, AGC of America awarded Rosendin first-place in safety for Specialty Contractor over three million man-hours.

A HISTORIC ACHIEVEMENT
This year marks the 100th anniversary of Rosendin's founding by Moses Rosendin in San Jose. Established as Rosendin Electric Motor Works in 1919, the company grew throughout the World War II era and incorporated in California in 1953. In 1992, the Rosendin family decided to sell the company to the employees by implementing an Employee Stock Ownership Plan (ESOP). By 2000, Rosendin Electric became 100% employee-owned and has grown dramatically with revenues upwards of $2 billion and nearly 6,000 employees across 16 offices nationwide.
For the past 100 years, Rosendin's teams have set the standard in the industry with innovative ideas for safety, design-build, integrated project delivery, lean construction, and collaboration. As part of the 100th Anniversary, the company updated its logo to reflect Rosendin's growth in services offered, including design-build engineering, building information modeling, prefabrication, renewable energy, special systems, and service and maintenance.
Lean more about Rosendin by visiting rosendin.com.
For reprint and licensing requests for this article, CLICK HERE.