Diversity and Inclusion: Diversity Isn't Enough - Why Inclusion Must be an Equal Priority
Custom Content by the Los Angeles Business Journal
Tuesday, March 26, 2019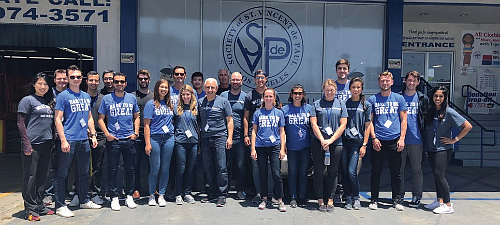 Workplace diversity is certainly not a new concern for businesses, but it is one that continues to hover near the top of many organizations' agendas. Beyond just being the "right thing to do," various studies have shown that prioritizing diversity makes good business sense. For example, companies that exhibit gender and ethnic diversity are, respectively, 15 percent and 35 percent more likely to outperform those that don't. They bring in more sales revenue, more customers, and higher profits.
There is another reason it remains a top strategic priority: It is far from an easy fix. This is clear from our own experience at West Monroe, as well as from many conversations I've had with clients and peers in other organizations.
The business reason to focus on diversity is about having the diverse experience and perspective necessary to challenge the status quo, think through issues in different ways, and solve tough business problems. We cannot create the innovative, top-tier solutions our clients expect without a diverse range of perspectives and backgrounds on our project teams.
About two years ago, we started to look more closely at the diversity of our firm. Our self-examination became a tipping point for doing something meaningful to address it. But the more we looked at the issue, the more we recognized that it is hard to have diversity without a strong sense of inclusion—that is, ensuring that we not only have diverse perspectives at the table but that those perspectives are encouraged and embraced. To quote diversity expert Vernā Myers: "Diversity is being invited to the party. Inclusion is being asked to dance."
Indeed, a study by Shell and the Human Capital Institute found that having diversity alone is not enough to drive business value. For example, diverse teams without strong leaders were not as inclusive; a 10 percent increase in diversity resulted in a 5 percent decrease in inclusion. Rather, diverse teams drive business performance when certain conditions – such as the presence of inclusive behaviors and balanced diversity (members do not group themselves into diversity sub-groups) – are present. Other research by the Center for Talent Innovation backs up that finding, suggesting that without inclusion, there is often a diversity backlash.
As we march further on this journey, I want to share a few principles and lessons learned that I think will be beneficial to others in our local business community – in any industry – who may be navigating the same challenges when it comes to building an inclusive culture.
Make all leaders accountable
An I&D leadership role can help organize activity, but it accomplishes nothing if business leaders do not set the right tone from the top. We started by challenging all of our directors (nearly100 people) to take ownership for an inclusive workforce. Led by an outside expert, our directors talked about unconscious bias and inadvertent workplace actions, and each one drafted a personal list of actions for making the people around them feel more included.
Encourage grassroots initiatives
Tackling inclusion and diversity requires both top-down leadership and bottom-up initiatives. Some of the best ideas come from homegrown efforts, and initiatives that start in a single office can blossom into full-blown programs if allowed to take root. One example is when one of our directors in Los Angeles launched a recurring conversation series over afternoon tea to tackle tough issues around inclusion, called "Diversi-tea." This provided our people an opportunity to have an open, honest dialog with colleagues from different teams and levels. While this started in one office, the initiative eventually became a firmwide conversation series called "Let's Talk I&D" held quarterly in each of our nine offices.
Form a council of volunteers
With the right level of support from leadership, a council of interested employees will innovate and take responsibility for developing initiatives, communicating, and gathering and analyzing feedback from the organization. This can also provide a bridge toward eventually establishing a formal I&D function.
Target operations, not just policies
It might seem instinctive to start with policies and values statements, and those are important. But words on paper don't always translate to desired actions. For example, acquisitions are an important part of our growth strategy. In our analysis of past integrations, we heard from some people who had joined through acquisition that we aren't always open to new ideas and ways of working, and that made them feel like outsiders. This feedback prompted us to look at how we welcome and integrate new people into our organization. When we acquired a firm in Los Angeles at the end of 2017, we took a thoughtful, inclusive approach to integration. As a result, we were able to rapidly pursue new business together, merge project teams quickly, and adopt some of their strategies for marketing and community outreach.
Take an inclusive approach to ERGS
We began formalizing our approach to employee resource groups (ERGs) right when a Big Four firm was making news for dissolving theirs. However, we are just now reaching a size where we believe formal ERGs can provide tangible value for our organization. One difference in our approach to ERGs is that we have set the expectation that ERGs must start with inclusivity. This means that anyone who wants to participate has the opportunity to do so and any content or programs they develop must be inclusive. This is a shift in the traditional approach to ERGs, but we believe it is critical for allies and supporters to work side-by-side with minority employees to create lasting change.
This is a journey of many and small steps, but it has been gratifying and energizing to be part of it. I hope these learnings motivate other area businesses and leaders to look in the mirror and not only prioritize diversity, but also inclusion.
Ken Siegman is Managing Director and Los Angeles Office Leader with West Monroe Partners.
For reprint and licensing requests for this article, CLICK HERE.