Madera Tries New Model
FOOD: Fast-casual pivot is social media-friendly
Friday, March 22, 2019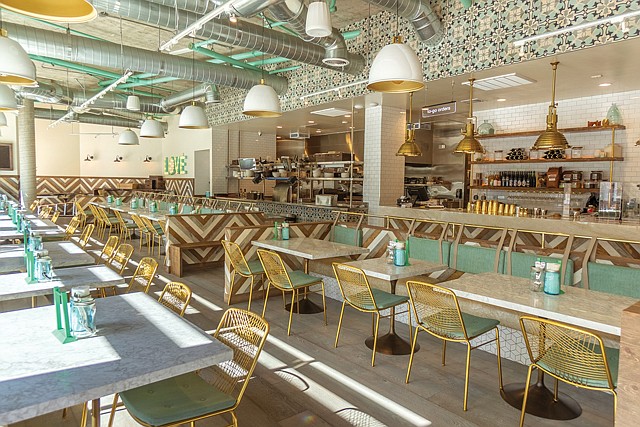 The pair said they were inspired by a phrase they'd jotted on a dry-erase board: "how to save the world one taco at a time." The name Tocaya Organica roughly translates in Spanish to "organic namesake."
Tocaya's menu is vegetarian with each dish offering the option to add meat, cheeses and other components.
The future of fast-casual
In Los Angles, fast-casual restaurant traffic has been on the upswing, rising 3 percent in the year ending in January, according to market researchers NPD Group Inc./CREST. Nationally, traffic ticked up 1 percent. But growth is slowing as the sector matures, research from Chicago-based Technomic Inc. shows.
Betting on continued success is tricky, analysts say.
"We have seen a number of restaurant companies with projection of spectacular growth, and executing it is real hard," said Kurt Schnaubelt, a restaurant industry adviser at New York-based AlixPartners.
Fast-growing companies often find they get stuck with overpriced real estate, Schnaubelt said. Making it more difficult, he added, many California restaurants that source produce locally find when they add locations outside the state, they can't find the same quality of ingredients from new suppliers. Plus, the fast-causal market is growing more crowded.
But Schnaubelt said Tocaya's highly customizable menu — which caters to vegetarians but allows carnivores to add meat to most items — should help the chain appeal to a wider audience and could give it staying power.
"Frankly, nonvegetarians enjoy a vegetarian meal from time to time," he said. "It's probably a trend into the future."
Berman acknowledged the difficulties ahead.
"I think we are going to see a lot of things shaking out in the next years," he said. "We are going to see a dip in the market; we are going to see people become more price sensitive."
Madera Group isn't profitable as the success of its store locations hasn't been enough yet to cover the group's overhead costs, Chief Financial Officer Mikey Tanha said. Part of the reason for the company's losses are its aggressive growth goals.
Century City-based private equity firm Breakwater Investment Management saw potential, investing $20.9 million in Madera Group last fall to fuel Tocaya's expansion.
"We think they are tastemakers," said Saif Mansour, managing partner at Breakwater. "There's a lot of alternatives for fast casual, but Tocaya distinguished itself."
Mansour added, "As opposed to going to Chipotle, you feel like it's fine dining."
Berman said Madera Group's performance has encouraged the company to go out for another round of investment this year.
In the meantime, the company is working on other tweaks to their operations, including building a smartphone app for ordering, so customers don't have to stand in line.
Prev Next
For reprint and licensing requests for this article, CLICK HERE.