ScaleLA Adds to Bioscience Incubator Scene
15,000-square-foot location offers no labs or equipment; 30 firms signed up so far
Friday, March 15, 2019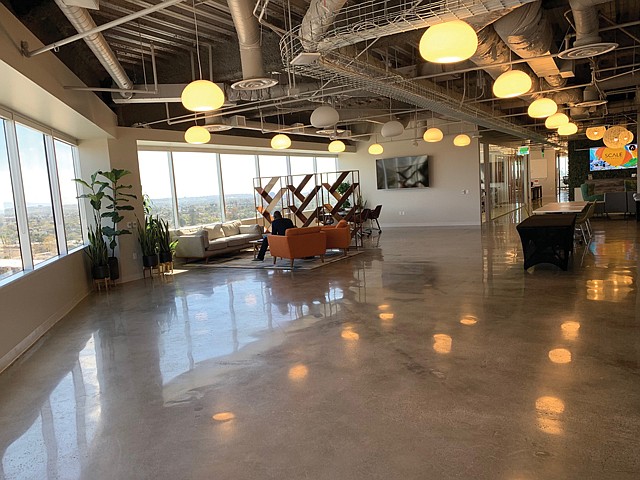 A new work space operated by ScaleLA Inc. — known as the 10th Floor — opened earlier this year as a 15,000-square-foot incubator for digital health and medical device startups.
"Our goal is to turn L.A. into the next hub for health care innovation as it relates to small-business startups," said Taylor McPartland, ScaleLA's founder and chief executive. "It's going really well.
ScaleLA said 30 companies have rented space or purchased memberships so far.
The company has built its business on collaborative ties between bioscience startups, bioscience investors, local government entities and research hospitals. Its 24-hour shared workplace takes up an entire floor near the top of a 12-story high-rise on Sepulveda Boulevard overlooking the 405 Freeway in Palms.

The ScaleLA workspace joins nearly a dozen bioscience incubators across the region, many of which contain shared research laboratories and equipment. The 10th Floor, in comparison, limits services to office space — no labs or equipment — with up to four weekly panels to offer startups a range of legal, financial and investment support.
A March 7 panel on early stage fundraising, for instance, drew an estimated 200 guests from Early Growth Financial Services Inc., Backstage Capital, Quake Capital Partners, Ikigai Asset Management, Strong Ventures, Grid110 and Crowdfunder Inc.
ScaleLA memberships start at $50 a month for a virtual address allowing one visit a month to a $3,000-a-month office suite for four.
Its 30 member companies include three that McPartland said were close to inking terms for funding rounds of $1 million or more. They include Oklahoma City-based Linear Health Sciences, a medical device firm that developed a new safety valve to reduce the risk of accidental uncoupling of IV catheters.
Strategic partners include the office of Los Angeles Mayor Eric Garcetti, Los Angeles County Economic Development Corp. and Children's Hospital Los Angeles Inc.
McPartland, who has a tech background, helped found FilmBreak, a digital marketing firm based in Santa Monica, which became CrowdfundX, a crowdfunding service for companies and content creators, for which he serves as an adviser.
He initially founded ScaleLA in 2016 as a nonprofit foundation to give disadvantaged Angelenos a helping hand in starting new businesses.
• • •
LA Physician Named to State Post
Los Angeles County health care know-how has now made its way to Sacramento.
Mark Ghaly, a South Pasadena pediatrician and a deputy director of the county's Department of Health Services, was appointed March 6 to lead the California Health and Human Services.
Prev Next
For reprint and licensing requests for this article, CLICK HERE.