FOOD FOCUS
Everytable aims to serve low-income areas, make money doing it
Friday, March 15, 2019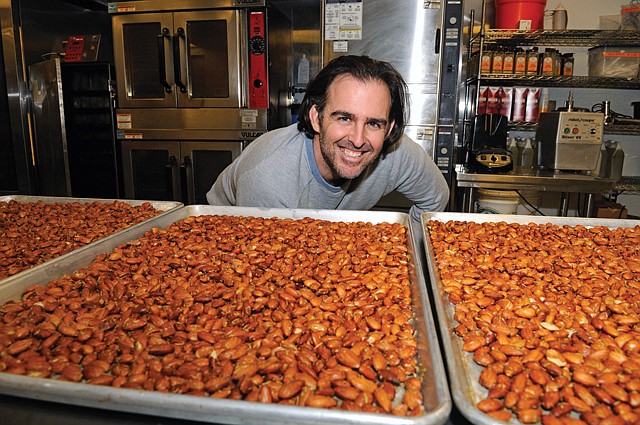 Sam Polk made millions of dollars as a Wall Street trader; now he wants to fix the fast-food business — a proposition that could prove even more complicated than the intricate financial instruments he mastered.
The 39-year-old aims to bring healthy-food shops and restaurants to low-income communities — and make a profit doing it — with his startup, Everytable.
Polk isn't the first to try and solve the problem of so-called "food deserts," urban zones that lack affordable, fresh food options. Chefs Roy Choi and Daniel Patterson both wanted to eliminate food deserts and upend the fast-food model through food chain Locol with its flagship in Watts. The chain lost money, and all four locations closed last summer as the chefs pivoted to catering.
"Food is really hard," Polk said. "By definition, it is low margin, and fresh food is the hardest." But he said he's up for the challenge.
Since launching four years ago, Everytable has opened seven grab-and-go-style food shops, added catering and subscription meal services, and attracted the interest of some high-profile investors.
Two-tier model
Polk's plan was to take on fast-food chains like Subway by offering healthy packaged meals at an affordable price. Key to that is keeping costs low.
The startup does that by preparing prepackaged meals, from kale Caesar salads to chicken tinga, at a central kitchen in Lincoln Heights. The meals are then delivered to Everytable locations, where customers pick out what they like from a wall of refrigerators, and employees reheat it.
Polk said that allows fewer workers to process more product than a Chipotle Mexican Grill Inc. restaurant, where employees both prepare food in kitchens on-site and also assemble meals in a cafeteria-style line.
Everytable's meals vary in price depending on what ZIP code they're sold in, with Compton and South Los Angeles locations charging around $5 for meals that run closer to $7 at the company's Santa Monica and Brentwood locations.
But retail stores are only part of the model. The company recently launched a subscription meal plan for residents within 5 miles of Everytable stores and a workplace service offering refrigerators filled with ready-made meals.
The company expects to install by next month 35 refrigerators at companies like Kaiser Permanente Inc., Vernon-based Fashion Nova Inc. and Playa Vista-based Toms Shoes. Everytable uses "smart" refrigerators designed by San Rafael's Byte Foods Inc. that open with the swipe of a credit card and keep track of inventory.
For reprint and licensing requests for this article, CLICK HERE.
Prev Next