Executive Education (March 11): LMU Enters Post-Graduate Business Certificate Arena
Custom Content by the Los Angeles Business Journal
Monday, March 11, 2019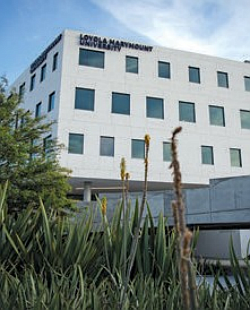 In an effort to provide students with a competitive advantage and to enhance their knowledge and skill sets in particular fields, starting this spring, Loyola Marymount University will introduce a portfolio of post-graduate business certificate programs at the state-of-the-art LMU Playa Vista Campus, located in the heart of Silicon Beach.
Designed for working professionals who are looking to stay ahead of the curve, these certificate programs feature small classes taught by accomplished faculty and industry leaders. The courses, developed by industry professionals and based on market feedback, include hot topics in emerging technologies, conscious capitalism, and leadership skills for the modern workplace, among others.
"We are preparing the leaders of today for the business of tomorrow," said Joe O'Hannigan, associate dean of graduate business programs at LMU. "Our progressive vision aims to equip and empower each individual to discover and evolve into his or her best self in order to navigate the global, dynamic, interdisciplinary world to lead positive change."
From newly appointed executives to managers in transition to seasoned veterans in need of a new skill set, LMU offers a variety of courses for different stages of your career. Today's professionals must think, act, lead and adapt in new ways to perform well under changing conditions and ambiguity. They must continually upshift their communication, critical thinking and problem-solving skills, and evolve their essential soft skills while staying on top of the technological and competitive disrupters affecting their organizations.
"The rapid pace of change in our global business environment challenges all of us to be agile professionals," said Dayle Smith, dean of the LMU College of Business Administration. "We must adapt to this change and become an integral part of the innovation culture that is transforming our organizations and the world around us."
The LMU College of Business Administration is announcing the following four certificate programs for business professionals seeking to improve their skills in order to remain relevant and competitive in today's ever-changing marketplace.
EMERGING TECHNOLOGIES FOR THE BUSINESS MANAGEMENT PROFESSIONAL
This certificate offers non-engineering business professionals of all levels and roles with a comprehensive survey of cornerstone emerging and evolving technical and digital disruptors affecting their industries, organizations and the consumer landscape. Individuals will also learn various business applications for these specific technological disruptors and will be equipped to leverage and navigate these technologies for their organization or for specific initiatives.
Sample courses: "Business Applications of Artificial Intelligence;" "Internet of Things;" "Intro to Blockchain"
BE THE CHANGE: SOCIAL IMPACT AND SUSTAINABILITY
This certificate offers an immersion into new types of business models that support conscious capitalism combined with experiential learning components to equip individuals to successfully lead relevant social impact needed in today's marketplace.
Sample courses: "Intro to Sustainable Business;" "Impact Entrepreneurship"
BUSINESS ESSENTIALS FOR A VUCA WORLD
This certificate offers new managers and upwardly mobile managers and directors the requisite toolkit, applicable across industries and roles, to support agility and adaptability in the gig economy throughout an individual's career to succeed in today's VUCA (volatile, uncertain, complex, ambiguous) business environment.
Sample courses: "EQ Smart;" "Leadership for the Modern Workplace;" "Managing Intergen Teams"
LEVEL-UP: EXECUTIVE THINKING AND INNOVATIVE APPROACHES TO BUSINESS PROBLEMS
Today's executives need to think more like intrapreneurs (a manager within a company who promotes innovative product development and marketing), which necessitates continually upshifting their creativity, communication, critical thinking, and problem-solving skills. This certificate helps professionals to activate more sophisticated levels of problem solving as well as to develop and expand their thought-action repertoires through the potent application of curiosity, storytelling, creative experiential learning, and evidence-based models of innovation.
Sample courses: "Quantum Storytelling;" "Creativity Lab;" "Ten Types of Innovation"
Students must complete all courses listed under a program to earn a full certificate. Courses may also be purchased a la carte; however, the cost per course is significantly lower if you purchase a full certificate package rather than an individual course.
For more information, visit execed.lmu.edu.
For reprint and licensing requests for this article, CLICK HERE.