UMG Rides Streaming Music Wave
ENTERTAINMENT: Label's rise gives it $50B valuation
Friday, March 1, 2019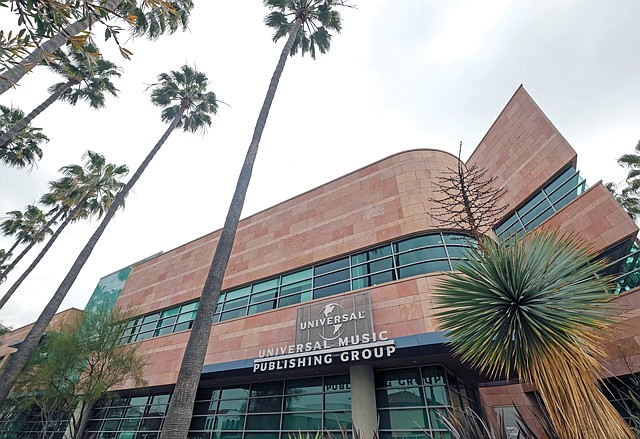 Universal Music Group Inc. was written off in 2013 as the industry leader of a dying industry.
French entertainment conglomerate Vivendi had just rejected Tokyo-based SoftBank Corp.'s $8 billion bid to buy the Vivendi-owned UMG record label, and music industry observers voiced surprise at Vivendi's decision, saying SoftBank had overvalued UMG.

Fast-forward to the present, and there's a distinctly different melody in the air. Vivendi recently put 50 percent of Santa Monica's UMG up for sale – with a JPMorgan Cazenove Ltd. investment note last week valuing the company at $50 billion.
The swift turnaround in perception for UMG – along with the heady valuation – rests on the music industry's life raft: consumers paying to stream music.
"For the music industry, subscription streaming is what is paying the bills now," said Gigi Johnson, a music business professor at UCLA.
The payoff is already significant for Universal.
Fourteen of the top 20 most played Apple Music artists of 2018 were Universal talent, including Drake, Ariana Grande and Taylor Swift.
That dominance in streaming had helped UMG to a 29.8 percent share of the global recorded music market in 2017, according to the most recent numbers from the London-headquartered International Federation of the Phonographic Industry trade group, compared to 22.6 percent for Sony Music Entertainment Inc., and Warner Music Inc.'s 18.1 percent.
UMG streaming revenues increased 37.3 percent in 2018 to $2.6 billion, according to Vivendi's annual report, released in February.
The streaming money more than offset revenue declines from downloads and physical sales. UMG's total revenue spiked to $6.8 billion, a 10 percent gain from 2017. UMG also posted $1.07 billion in operating income, up 22.1 percent from the year before.
Those figures represented nearly half of Vivendi's entire 2018 revenue and approximately three-quarters of the conglomerate's profits.
The annual report coincided with Vivendi Chief Executive Arnaud de Puyfontaine stating the company is advancing a plan, announced in July, to offer up to 50 percent of UMG to "one or several strategic partners" by the end of 2019.

De Puyfontaine has not identified potential buyers, and Vivendi and UMG declined comment.
The "rumored buyers" parlor game has been replete with international investors, plus U.S. tech and entertainment conglomerates.
De Puyfontaine added during the February earnings call that, "Universal Music Group's 2018 annual results will serve as the basis for the discussions with potential partners."
The streaming wave
UMG's corporate campus sprawls across a block of Colorado Boulevard in Santa Monica.
Prev Next
For reprint and licensing requests for this article, CLICK HERE.