Third Street Promenade Building Sold for $24.5M
Blatteis & Schnur purchase along high-traffic area funded by $17.6M loan
Friday, March 1, 2019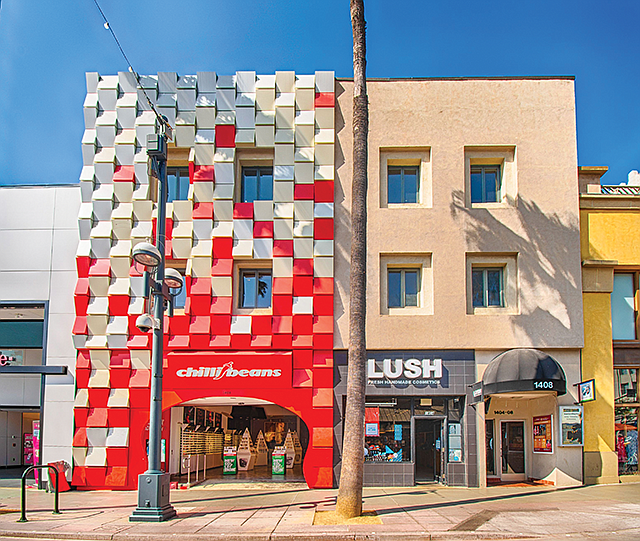 Blatteis & Schnur Inc. has purchased a mixed-use building in downtown Santa Monica for $24.5 million, Marcus & Millichap Inc. announced Feb. 21.
Marcus & Millichap's Richard Ringer and Jeff Benson represented both the buyer and the seller, a private individual.
"The building is located on the most desirable block of the world-famous Third Street Promenade, a pedestrian-only outdoor shopping district that has become one of the major tourist attractions in Southern California," Ringer said in a statement.
Sam Brownell, principal at Blatteis & Schnur, said the group would redevelop the property once the current tenants move out but was still "evaluating what direction to take." Retail will remain on the ground level, he said.
The building, at 1404-1408 3rd St., is 14,594 square feet. Lush Handmade Cosmetics Ltd. and Chilli Beans are currently ground floor tenants with office space above.
"At the time of the sale, the building was fully occupied, and with a majority of the leases turning within the next several months, the new owner has a great opportunity to reposition the property through renovations and re-tenanting," Benson said in a statement.
Blatteis & Schnur has been given a $17.6 million acquisition loan for the building, HFF Inc. announced Feb. 20.
HFF's Marc Schillinger and Paul Brindley secured the loan on behalf of Blatteis & Schnur.
The company declined to disclose who provided the loan.
• • •
UCLA Offers Affordable Housing Class
The UCLA Ziman Center for Real Estate has launched an affordable housing development program.
The program teaches students about entitlements, public-private funding, tax credits, capital structures, design and project management.
"The private sector needs to know that money can be made in affordable housing," said Ziman Center Executive Director Tim Kawahara in a statement. "If the only housing starts are luxury, there will never be enough affordable housing. This crisis cuts into the urban workforce if people can't afford to live where they work, threatening our region's economic viability."
The program, called the Howard and Irene Levine Affordable Housing Development Program, started in the fall. Roughly 140 people applied for 24 spaces. The class size has increased to 30 students. A call for applicants went out at the end of February.
"We know of no other major research university that's taken on this societal challenge in this way," Stuart Gabriel, the Ziman Center's director, said in a statement. "We will grade ourselves on how successful we are in getting graduates of this training to develop affordable housing."
• • •
The Garland Gets $7.8M Financing
The Garland, a mixed-use downtown building home to the historic Globe Theatre, has received $7.8 million in financing for energy, water and infrastructure improvements. The money was provided by Sausalito-based CleanFund Commercial PACE Capital Inc., which provided the financing.
C-PACE financing lets owners repay investments used on building upgrades and construction as a line item on property tax bills. The tax authority then forwards money to CleanFund and its agents.
The Garland, at 740 S. Broadway, is being redeveloped by San Francisco-based Presidio Bay Ventures and Brentwood-based 740 South Broadway Associates as a mixed-use project.
Houman Sarshar, principal at 740 South Broadway Associates, said the property has been in his family since the 1980s. In 2017, he started a rehab project that will be completed in 2020.
"It's been a full gut rehab," he said. "We've gone down to the skin of the building and completely gutted the inside to just the floors and the structural features of the building. We will be rebuilding everything from the walls in."
Once completed, the Garland will have 50,000 square feet of creative office space, a 28,000-square-foot entertainment venue and 3,200 square feet of retail.
Chris Robbins, managing director at CleanFund, said the financing helps property owners finance upgrades for more efficient buildings.
"One of the unique aspects of this capital is it can be used for projects that benefit the public good," Robbins said of C-PACE financing. "The capital we are providing is designed to help commercial property owners finance those upgrades and improvements that create a more efficient building."
Sarshar said C-PACE loans were beneficial from a development standpoint over more traditional types of loans.
Staff reporter Hannah Madans can be reached at hmadans@labusinessjournal.com or (323) 556-8337.
For reprint and licensing requests for this article, CLICK HERE.