CRE Awards 2019: Best Redevelopment Project
Custom Content by the Los Angeles Business Journal
Friday, March 1, 2019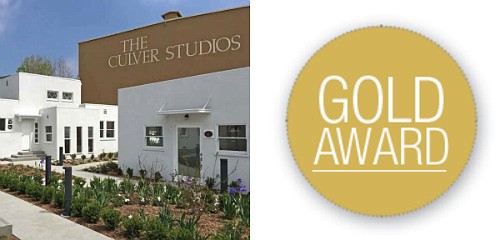 Culver Studios
Location: 9336 Washington Blvd., Culver City
Developer: Hackman Capital Partners
Contractor: Taslimi Construction Company, Inc
Architect: KCK Architects
Subcontractors: Stice Company, Inc. | Pierre Landscape, Inc. | Spectra Company
The Culver Studios project consists of relocation, structural retrofit, and restoration of an existing group of four historic bungalows on the landmarked Culver Studios property including seismic retrofit of two additional historic structures, a new central plant serving all relocated and existing buildings, interior tenant improvements, accessibility upgrades, and new building systems for utilization of the buildings as office space. The move and subsequent historic renovation of the structures, and the subsequent infill of new landscaping and walkways, not only makes way for needed new construction on the original site, but creates a new compound that consolidates and preserves the unique history of the studio, and provides a creative workplace campus and landscape for the studio of the 21st century. All site amenities were developed to maintain the historic character of the buildings and open space. Work was designed by a qualified historic architect, constructed by contractors with preservation experience and monitored by a preservation consultant to meet the Secretary of the Interiors Standards for Rehabilitation of Historic Structures.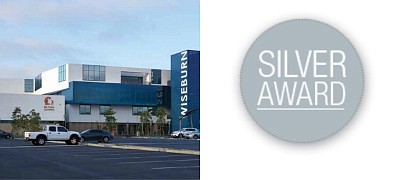 Wiseburn USD & Da Vinci Schools
Location: 201 N. Douglas St., El Segundo
Developer: Da Vinci Schools
Contractor: Balfour Beatty Construction
Architect: Gensler
Subcontractors: Pamela Burton & Company | Saiful Bouquet Structural Engineers | tk1sc
Wiseburn and Da Vinci Schools sought to create a novel 21st Century learning environment on a modest budget by transforming a secretive office space of a U.S. military contractor into a hyper-adaptable, four-story public high school. The highly flexible design of the educational facility creates a high level of transparency and interconnectivity that supports a dynamic balance of student independence, collaboration and teacher oversight.
FINALISTS
AC Hotel Beverly Hills
Developer: Seaview Investors, LLC
Contractor: R.D. Olson Construction
Architect: AXIS/GFA
Subcontractors: A.J.Kirkwood & Associates, Inc. | Guy Yocom Construction.
H Hotel LOS ANGELES
Developer: Seaview Investors, LLC
Contractor: R.D. Olson Construction
Architect: Melzer Deckert & Ruder Architects, Inc
Subcontractors: A.J.Kirkwood & Associates, Inc. | AGS
NoMad Hotel Los Angeles
Developer: Sydell Group
Contractor: RD Olson Construction
Architect: KFA Architecture
Subcontractors: Decoration Jacques Garcia | Nabih Yooussef & Associates | KPFF Consulting Engineers
For reprint and licensing requests for this article, CLICK HERE.