CRE Awards 2019: Best Office Project
Custom Content by the Los Angeles Business Journal
Friday, March 1, 2019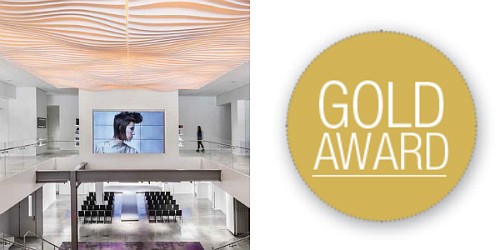 COTY HEADQUARTERS
Location: 4500 Park Granada, Calabasas
Developer: Rising Realty Partners
Contractor: Sierra Pacific Constructors
Architect: Alexis Dennis Design | Moshiri Associates
Subcontractors: Haworth | DFS Flooring | G & S Acoustics, Inc.
Paris based international beauty company, Coty, consolidated its existing facilities in North Hollywood and Woodland Hills into the newly redeveloped Park Calabasas. The 20-acre campus features lush landscaping, expansive views, walking trails, a fitness center, cafe, extensive outdoor spaces for individual working, group meetings or corporate events, and close proximity to amenities including The Commons at Calabasas. While the building, designed by the famed William L. Pereira & Associates, and constructed in 1985, was an architectural gem, it was originally built for a single corporate tenant and many changes were required to not only upgrade the building for multi-tenant use, but also to accommodate the diverse programmatic requirements for Coty including: corporate offices, research and development laboratory, professional hair and nail training facilities, multipurpose event spaces, a photo/video studio and retail areas. The building owner and developer, Rising Realty Partners, worked with its architect to modernize the building lobbies, courtyard, outdoor spaces and restrooms.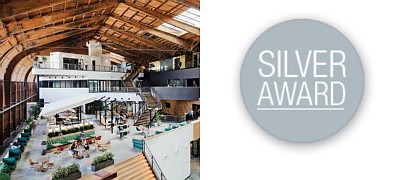 Google, Spruce Goose
Location: 16 S. Campus Center Drive, Los Angeles
Developer: Google
Contractor: MATT Construction
Architect: ZGF
Subcontractors: Arup | SPMD | GPA Consulting
ZGF partnered with Google to revitalize and transform the landmark Spruce Goose Hangar in Playa Vista, California, with the development of a 450,000+ square foot, four-level "building-within-a-building" inside the seven-story, 750-foot-long historic wooden structure. Built by Howard Hughes in 1943 for the construction of the Hercules IV airplane (the "Spruce Goose"), the hangar now comprises of office, meeting, food service, event, and employee amenity spaces.
FINALISTS
Paradigm Talent Agency
Developer: AMA Project Management
Contractor: Clune Construction Company
Architect: Rottet Studio | ARC Engineering
Subcontractors: Washington Iron Works Inc. | Sharpe Interior Systems Inc. | Nazzareno Electric Co. Inc.
Scorpion Internet Marketing
Developer: LNR Properties
Contractor: Snyder Langston
Architect: PK Architecture | Wirt Design Group
Subcontractors: Brandow & Johnston, Inc. | Sasco
Spring Place - Beverly Hills
Developer: Spring Place Beverly Hills, LLC
Contractor: Swinerton
Architect: wHY
Lender: Gores Group
For reprint and licensing requests for this article, CLICK HERE.