CRE Awards 2019: Best Medical Project
Custom Content by the Los Angeles Business Journal
Friday, March 1, 2019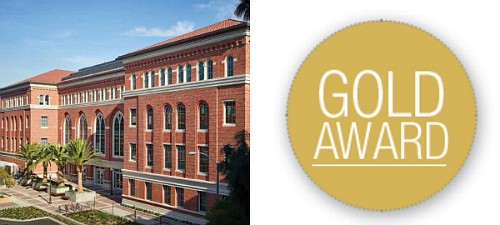 USC Michelson Center for Convergent Bioscience
Location: 1002 Childs Way, Los Angeles
Developer: University of Southern California
Contractor: DPR Construction
Architect: HOK
Subcontractors: John A Martin & Associates | KPFF Consulting Engineers | HLB Lighting Design
Michelson Hall houses the new state-of-the-art Center for Convergent Bioscience at USC and stands in the southwest quadrant of the University Park Campus, home to the science and engineering buildings, and houses 20 to 30 principal investigators with laboratories employing hundreds of researchers and students. The four-story, 190,000 square foot research building is the future catalyst for discoveries in biological science, imaging, engineering, nanofabrication and collaborative cross-disciplinary studies. The building houses 30 labs, Class 100 and 1,000 Nanotechnology cleanrooms, imaging suites, and a large conference and classroom center on the first floor. Michelson Hall is a world-class center of the accelerating convergence between the biosciences and engineering, conducting cutting-edge bioscience and bio-engineering research that will lead to breakthrough innovations for advancing human health. The building organization is designed to facilitate efficient and highly flexible research spaces as well as create areas to foster collaboration and convergence across scientific disciplines.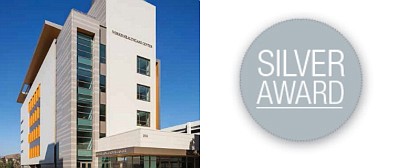 USC Norris Healthcare Consultation Center
Location: 1516 San Pablo St., Los Angeles
Developer: University of Southern California
Contractor: DPR Construction
Architect: HKS Architects
The University of Southern California Norris Comprehensive Cancer Center is a new outpatient cancer care facility in Los Angeles. Occupying 110,000 square feet of USC's Health Sciences Campus, the center will form a gateway to the outpatient care portion of the campus. Key programmatic elements of the project include multi-disciplinary clinics, infusion facilities and outpatient surgery facilities. Clinical floors focus on collaboration and efficiency, improving patient experience and staff satisfaction.
FINALISTS
Downtown West Medical
Developer: Inception Property Group
Contractor: Oltmans Construction Company
Architect: Ware Malcomb
Subcontractors: P2S Engineering | PDS | KPFF Consulting Engineers
Lender: Mutual of Omaha
Providence Breeze Advanced Ambulatory Care Center
Developer: Providence Saint Joseph Health
Contractor: Snyder Langston
Architect: CallisonRTKL
Subcontractors: Briggs Electric | ACCO | John Jory Corporation
For reprint and licensing requests for this article, CLICK HERE.