Cancer Prevention Awareness: 15,000 Second Chances - City of Hope Bone Marrow Transplant Program Celebrates Milestone
Custom Content by the Los Angeles Business Journal
Monday, June 24, 2019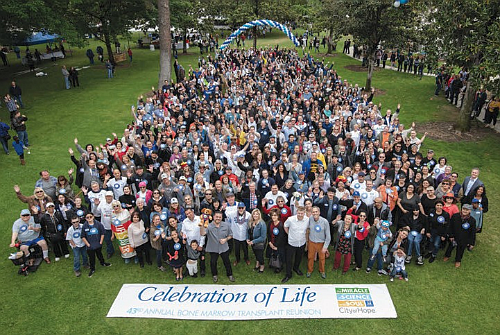 City of Hope's bone marrow transplant program recently performed the procedure on its 15,000th patient, a remarkable milestone considering that the initiative started with just two physicians, three beds and guarded expectations in 1976.
Forty-three years ago, a college student from Indiana became the hospital's first successful bone marrow transplant.
In October of that year, the student, then 27, received the heartbreaking news that he had acute myeloid leukemia (AML). In those days, an AML diagnosis was grim and bone marrow transplantation (BMT) was still primitive and not in wide practice. At the time, City of Hope was one of only six medical centers in the United States offering it.
The student's doctor advised the young man to get his affairs in order, but his cousin, a doctor living in Los Angeles, told him she knew of a cancer treatment center in nearby Duarte that had just launched a program for BMT.
A HISTORIC FIRST
Trusting his cousin's advice, the young man came to City of Hope. His eldest brother was selected as a match, and he underwent a BMT as a patient of Karl Blume, M.D., who established the BMT program at City of Hope in 1975 with Ernest Beutler, M.D. Standard treatment in 1976 meant he would endure very high doses of chemotherapy followed by three-hour sessions of full-body radiation. Following the transplant, he spent a month in isolation.
This young man became one of City of Hope's longest-surviving BMT patients, remaining in remission for 35 years until his death in 2011.
Since then, City of Hope researchers have led the way in making transplants more effective and safer. Ours is one of the largest and most successful programs in the United States, and the most prodigious BMT program in California, with 720 annual transplants, on average.
REFINING THE TECHNIQUE
BMTs establish a new, disease-free blood and immune system by transplanting healthy blood stem cells into the body after destroying the patient's unhealthy bone marrow. This process can be taxing on the body, but City of Hope has made great strides in improving the safety of the procedure.
When the program started, because of the physically challenging nature of the procedure, transplants were rarely performed in patients over the age of 30. Now, City of Hope offers the treatment to older patients.
City of Hope was one of the first institutions to do BMTs in people over the age of 50 by developing an approach based on the idea of a reduced intensity, or "mini" transplant. This breakthrough method relies less on heavy doses of chemotherapy and radiation and more on the antitumor effects of the graft itself.
"Given that many of the diseases that we take care of are diseases of older people, being able to transplant patients successfully in their 70s is a huge innovation," said Stephen Forman, M.D., the Francis & Kathleen McNamara Distinguished Chair in Hematology and Hematopoietic Cell Transplantation.
BECOMING ONE OF THE BEST
In addition, City of Hope was one of the first places to show that BMTs could be safely performed on patients with HIV. Today, BMT is sometimes used to treat selected solid tumors as well as numerous nonmalignant diseases, including sickle cell disease, lupus, scleroderma and multiple sclerosis.
 Another important innovation has been the ability to do transplants from half-matched family donors. This development has greatly expanded the pool of people who are eligible to receive transplants, particularly minority and mixed-race patients, who have more difficulty finding matches.
 City of Hope's BMT program is the only one in the nation that has had one-year survival above the expected rate for 14 consecutive years, based on analysis by the Center for International Blood and Marrow Transplant Research. It has earned accreditation by the Foundation for the Accreditation of Cellular Therapy, considered the standard of excellence for blood and bone marrow transplant programs in the United States.
A HUMANISTIC APPROACH
Looking forward, our BMT program is focused on minimizing side effects, increasing effectiveness and expanding our reach through clinical trials of a City of Hope-developed vaccine for cytomegalovirus (CMV), a common and potentially deadly infection following transplant, and incorporating CAR T therapy, an immune-boosting treatment used either before transplant to put the disease into remission or after transplant to help prevent recurrence.
 "What's really differentiated our program is all this is wedded to a deeply humanistic vision of delivering care to the patient," said Joseph Alvarnas, M.D., associate clinical professor in the Department of Hematology & Hematopoietic Cell Transplantation at City of Hope. We have a system in which not only do you have hematologists caring for their patients, but you also have them partnering with members of supportive care medicine, from palliative care physicians to social workers to psychologists — and all of those things create a very grounded, human-centered vision."
To learn more, go to CityofHope.org.
For reprint and licensing requests for this article, CLICK HERE.