Thea Pham
20 in their 20s
Monday, June 17, 2019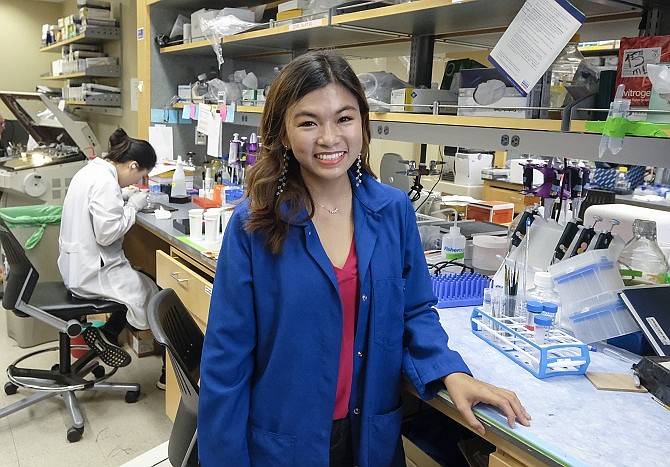 Thea Pham, 24
Title: Co-founder, U-Defi Inc.
Company: U-Defi Inc. in Westwood is a subscription skin care company that formulates a unique product for each customer based on individual skin molecular signatures.
Employees: 2 Co-founders are Pham, a UCLA PhD candidate in neuroscience who serves as chief executive, and UCLA MBA candidate Van Nguyen. They plan to add three to five more employees in sales, marketing, computer science and branding.
Financials: U-Defi, a winner of UCLA's 2018 Knapp Venture Competition, has completed its R&D phase and plans to launch fundraising in the fall. Plans call for the product to be available to the public in 2020.
What led you to start this business?
I have very sensitive skin, and as I am a very curious person. I just love looking at ingredients, what works and what doesn't. I (went) through a lot of products and realized the inefficiency in the current industry. I know as a scientist every skin is unique. Working in the lab, I suddenly realized I could use this scientific method to test my skin's molecular signature and create a skin care product that works for me. I hate that the current industry calls it "anti-aging." It is maintaining skin health, which should start earlier. The biggest organ in your body should be part of that.
How does it work?
We send you a skin tape, like a Scotch tape, and you peel it off. We analyze it for your molecular signature and formulate a cream for you. The most exciting thing is, three months after you use our cream, we send you a second test with actual data on how your skin is doing. I am a scientist. I need numbers.
Are there advantages/disadvantages to starting a business in your 20s, and if so, what are they?
Because I am new to the beauty industry business and I come from a science background, to be able to look at the current model with a fresher look leaves room for making constructive changes. I feel like I am much better at taking risks. I don't have a family and everything (yet); that gave me the flexibility to work really long hours and take on as many risks as I could. I am an outsider, but I am not unfamiliar with the industry. I spent the past six years running through hundreds of products. I am young in age — but not in ability.
Prev Next
For reprint and licensing requests for this article, CLICK HERE.