Rachel Sumekh
20 in their 20s
Monday, June 17, 2019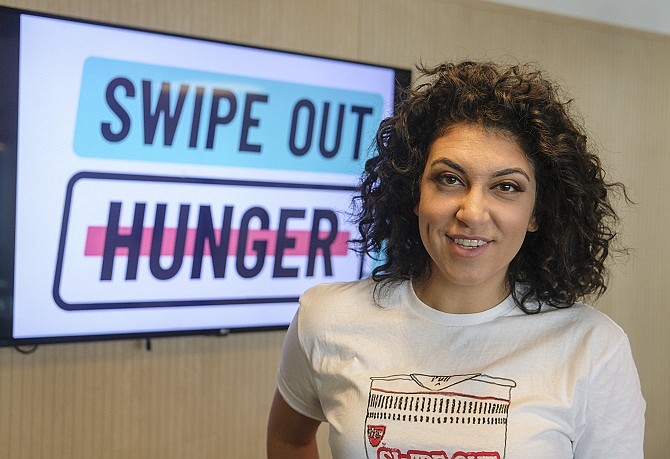 Rachel Sumekh, 27
Title: Chief executive and founder, Swipe Out Hunger
Organization: Downtown-based Swipe Out Hunger is a nonprofit committed to ending college student food insecurity.
Employees: 5
Financials: 2018 budget was $434,500.
What led you to start this nonprofit?
In 2010, as a student at UCLA, I and my friends grew frustrated that we had so much leftover money on our meal plans, yet we saw for ourselves the prevalence of food insecurity on campus and within our community. We decided to collect food from donated meal swipes and provide it to the Food Closet (a UCLA community program). In my mind, what it meant to be a leader changed, and the power of one person to take a stand … was very inspiring.
How did you fund it, and how are you funding it going forward?
We relied on grassroots support until the (Barack) Obama White House recognized us as a Champion of Change, and we realized that we needed to formalize our structure and officially become a nonprofit. We received dozens of requests from universities who also wanted a Swipe Out Hunger program, and we needed the capacity to share information and best practices with our networks. Our early funding came from pitch competitions and online voting competitions. For example, in 2014 we received a significant seed fund after I won the Social Venture Partners Fast Pitch.
Are there advantages/disadvantages to starting a nonprofit in your 20s, and if so, what are they?
The upside of being a young entrepreneur is that I haven't had my world view soured yet. I'm incredibly idealistic and driven, so my hope motivates me to lead with a big vision. Not knowing "the rules" means I get to operate in the world how I see best, and I'd say the world is better because of it. (As for disadvantages,) people constantly assume that Swipe Out Hunger is just an idea and doesn't have any traction or employees — that's all "traditional" people expect from a young woman of color.
Where do you go for advice regarding your nonprofit?
I read about two business books a month. I already know many of the principles they share, but hearing them applied in new ways, through new case studies is what makes the difference between knowing something and actually executing. I also rely on our board chair, Libby Jacobson.
Do you encounter skepticism from investors/funders because of your age, and if so, how do you handle it?
Some people have dismissed me because I'm a young woman of color – a triple threat! – but there have been plenty of other incredible funders who see the power of our work for what it is and aren't distracted by my age. It makes me more confident. The people who are going to judge me will anyway, so let me be my full, charismatic, idealistic 27-year-old self rather than buy a blazer and wear neutral colors.
What do you do for fun?
I spend many afternoons with friends at Echo Park Lake. I stay involved in organizing communities around issues that would make Los Angeles a stronger and more beautiful place to live. I also love my job and think it's a great source of fun for me!
For reprint and licensing requests for this article, CLICK HERE.
Stories You May Also Be Interested In